Southington, CT Pest Control
Southington, a town in Hartford County, Connecticut is a growing community and home to family-friendly neighborhoods, an eclectic downtown, and thriving businesses and industrial areas. Its ideal location along the Quinnipiac River, nestled between two mountains, provides plenty of outdoor activities for people to enjoy. To protect your Connecticut home or business from the many pests that also thrive in all the outdoor spaces Southington has to offer, partner with the local experts at American Pest Solutions. For more than 100 years, we have been protecting people and properties in Connecticut from pests such as ants, rodents, ticks, pantry pests, spiders, mosquitoes, termites, and bed bugs. To learn more about our residential or commercial pest control solutions, give American Pest Solutions a call today!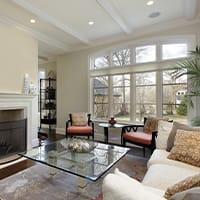 Residential Pest Control In Southington, CT
Keeping pests out of your home and away from your belongings and family is a job best left to the professionals. Professionals provide accurate pest identification, will discover pest entry points, find nesting areas, and provide the proper treatment needed to eliminate pests from your home and keep them from returning.
To guard your Southington home against pests, American Pest Solutions created an effective, affordable, and eco-friendly Pest Guard plan. It includes an initial inspection of your home and property, the treatment of existing pest infestations, a minimum of 4 follow-up visits scheduled through a 12 month service period, and access to our 24-hour answering service. The Pest Guard plan also provides termite coverage through in-ground termite monitoring stations that monitor your property for termite activity from April through October. To begin working together to maintain a pest-free household, give American Pest Solutions a call today.
Problems Mosquitoes Cause In Southington, CT
Mosquitoes can cause a variety of problems for people in Southington. Their bites can be painful and leave behind large, swollen, itchy, welts. Female mosquitoes feed on the blood of a wide variety of hosts allowing them to contract and transmit a wide variety of serious diseases to people and animals. In the United States, mosquitoes are known to transmit West Nile virus, Zika virus, and encephalitis. Worldwide they are responsible for spreading malaria and causing millions of deaths each year.
Swarms of mosquitoes living and breeding on your property make it difficult to enjoy your outdoor spaces. To minimize your exposure to mosquitoes and the problems they cause, it is best to partner with a professional and to implement a mosquito-reduction program. American Pest Solutions has developed our Mosquito Guard program which offers effective, season-long protection against mosquitoes from April through October. Mosquito Guard can be completed as a stand-alone service, or it can be added to the Pest Guard home pest control program. To learn more about our Mosquito Guard program, reach out to us today!
Commercial Pest Control In Southington, CT
Protect your Southington commercial facility from invasive pests with the help of American Pest Solutions. Benefits of choosing us for your commercial pest control solutions include:
Prompt, 24-hour service.

Treatments are performed by licensed and educated technicians.

Our Technicians are provided with on-going field training by our board-certified entomologist.

Our professionals have the experience, training, and education needed to solve any pest problem.

Our board-certified entomologist looks at properties by appointment.

Our Transparent Accountability program allows commercial customers to secure online access to pay invoices, view and update account information, view and print statements, schedule service, view billing and service history, and more.
Give American Pest Solutions a call today and get started protecting your Connecticut business from our area's toughest pests.
Guide To Identifying Termite Damage In Southington, CT
Being able to identify termite damage inside a home in a timely manner is difficult. Termites work silently, feeding on the inside of structural wood behind walls, under floors, and above ceilings. More often than not significant termite damage is done before their presence and/or signs of damage are noticed by homeowners. The most accurate way to identify termite damage is to partner with a professional to have routine termite inspections performed and to install a monitoring and bait system on your property. American Pest Solutions recommends the Advance® Termite Bait System to monitor for termite activity and to eliminate termites around your structure. To take a proactive approach against invasive, wood-eating termites, give American Pest Solutions a call today.
What Do The Bed Bugs In Southington Look Like?
As their name implies, bed bugs are known for taking refuge in people's beds when they've managed to get inside your home. However, they can actually exist anywhere in the home. Bed bugs feed on human blood and leave behind itchy welts that can become infected if scratched.
For these reasons and many more, it's better to prevent an infestation from happening instead of controlling an existing infestation. Before you can use effective prevention methods, it's important to know what bed bugs actually look like. Bed bugs are oval in shape and grow to approximately 3/16 of an inch. Before feeding, they are brown and flat in appearance similar to an apple seed. If a bed bug has fed, it will become swollen in size and boast a red color. Like other insects, this pest has six legs and two antennae.

If you suspect a bed bug infestation, then contact our team at American Pest Solutions immediately. Don't wait to explore your bed bug control options and take the first step towards becoming pest-free again.
Four Ways To Prevent Carpenter Ants In Southington Homes
Most ants are considered to be just annoying and nothing more than that. However, carpenter ants are a very real threat to the condition of your home. Given a large enough colony and plenty of time, carpenter ants can cost you thousands of dollars in property repairs. That's why it's important to know how to prevent carpenter ants from invading in the first place. Our four prevention tips are:
1. Eliminate moisture sources

2. Trim back tree branches and other plant life from the home

3. Seal the entry points including cracks and crevices

4. Keep all wood and firewood stored far away from the home
If you have an active infestation or want to stay protected from carpenter ants, then contact our team at American Pest Solutions! We're happy to review your carpenter ant control options while getting you back to pest-free.
Fleas And Ticks: The Diseases They Bring To Residents In Southington
Arguably the two most dreaded pests for people in Southington are the flea and tick. They hitchhike on other animals, which makes them extremely difficult to detect. If that wasn't bad enough, they also transmit a slew of diseases that can make both pets and people extremely sick. Some common illnesses transmitted by fleas include but aren't limited to:
Typhus
Plague
Cat Scratch Disease
Tapeworms
Ticks transmit their own diseases with none of them being enjoyable to endure. In fact, they all can greatly impact a person's life if not treated quickly enough. These illnesses include but aren't limited to:
Rocky Mountain Spotted Fever (RMSF)
Lyme Disease
Southern Tick-Associated Rash Illness (STARI)
Ehrlichiosis
Tularemia
Stay on top of flea and tick infestations with professional flea and tick control services. Contact our team today at American Pest Solutions to explore your options and take the first steps towards a pest-free home.
What Is The Best Way To Avoid Bee And Wasp Stings In Southington?
During warmer weather, bees and wasps become much more active compared to other times of the year. While this is actually a good thing since they help pollinate plants among other benefits, they pack a powerful sting. This sting is painful and can lead to requiring medical attention if stung multiple times or if a person is allergic. Fortunately, there are ways to avoid bee and wasp stings in Southington. Some of the best options are:
Make sure to wear smooth and light-colored clothing
Minimize use of soaps, shampoos, and deodorants if outside
Make sure all food is put away and stored properly to keep them from being attracted
Exercise care and caution around any active nests until they can be safely removed
Ultimately, the best way to avoid being stung is to invest in professional bee and wasp control services. If you're ready for a stinging insect-free property, then call our team at American Pest Solutions today to explore your options and get started.