Southington, CT Pest Control
Southington, a town in Hartford County, Connecticut is a growing community and home to family-friendly neighborhoods, an eclectic downtown, and thriving businesses and industrial areas. Its ideal location along the Quinnipiac River, nestled between two mountains, provides plenty of outdoor activities for people to enjoy. To protect your Connecticut home or business from the many pests that also thrive in all the outdoor spaces Southington has to offer, partner with the local experts at American Pest Solutions. For more than 100 years, we have been protecting people and properties in Connecticut from pests such as ants, rodents, ticks, pantry pests, spiders, mosquitoes, termites, and bed bugs. To learn more about our residential or commercial pest control solutions, give American Pest Solutions a call today!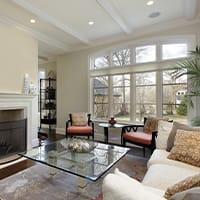 Residential Pest Control In Southington, CT
Keeping pests out of your home and away from your belongings and family is a job best left to the professionals. Professionals provide accurate pest identification, will discover pest entry points, find nesting areas, and provide the proper treatment needed to eliminate pests from your home and keep them from returning.
To guard your Southington home against pests, American Pest Solutions created an effective, affordable, and eco-friendly Pest Guard plan. It includes an initial inspection of your home and property, the treatment of existing pest infestations, a minimum of 4 follow-up visits scheduled through a 12 month service period, and access to our 24-hour answering service. The Pest Guard plan also provides termite coverage through in-ground termite monitoring stations that monitor your property for termite activity from April through October. To begin working together to maintain a pest-free household, give American Pest Solutions a call today.
Problems Mosquitoes Cause In Southington, CT
Mosquitoes can cause a variety of problems for people in Southington. Their bites can be painful and leave behind large, swollen, itchy, welts. Female mosquitoes feed on the blood of a wide variety of hosts allowing them to contract and transmit a wide variety of serious diseases to people and animals. In the United States, mosquitoes are known to transmit West Nile virus, Zika virus, and encephalitis. Worldwide they are responsible for spreading malaria and causing millions of deaths each year.
Swarms of mosquitoes living and breeding on your property make it difficult to enjoy your outdoor spaces. To minimize your exposure to mosquitoes and the problems they cause, it is best to partner with a professional and to implement a mosquito-reduction program. American Pest Solutions has developed our Mosquito Guard program which offers effective, season-long protection against mosquitoes from April through October. Mosquito Guard can be completed as a stand-alone service, or it can be added to the Pest Guard home pest control program. To learn more about our Mosquito Guard program, reach out to us today!
Commercial Pest Control In Southington, CT
Protect your Southington commercial facility from invasive pests with the help of American Pest Solutions. Benefits of choosing us for your commercial pest control solutions include:
Prompt, 24-hour service.

Treatments are performed by licensed and educated technicians.

Our Technicians are provided with on-going field training by our board-certified entomologist.

Our professionals have the experience, training, and education needed to solve any pest problem.

Our board-certified entomologist looks at properties by appointment.

Our Transparent Accountability program allows commercial customers to secure online access to pay invoices, view and update account information, view and print statements, schedule service, view billing and service history, and more.
Give American Pest Solutions a call today and get started protecting your Connecticut business from our area's toughest pests.
Guide To Identifying Termite Damage In Southington, CT
Being able to identify termite damage inside a home in a timely manner is difficult. Termites work silently, feeding on the inside of structural wood behind walls, under floors, and above ceilings. More often than not significant termite damage is done before their presence and/or signs of damage are noticed by homeowners. The most accurate way to identify termite damage is to partner with a professional to have routine termite inspections performed and to install a monitoring and bait system on your property. American Pest Solutions recommends the Advance® Termite Bait System to monitor for termite activity and to eliminate termites around your structure. To take a proactive approach against invasive, wood-eating termites, give American Pest Solutions a call today.