Williamstown, MA Pest Control
Mountain views, beautiful architecture, a quaint downtown, and friendly residential neighborhoods all work together to make Williamstown, Massachusetts a fantastic place to live. Unfortunately, insects and rodents also call this lovely Massachusetts community home. To help keep your Williamstown home or business free of the many pests that also live in the area, turn to American Pest Solutions and our over 100 years of pest control experience. We have an outstanding reputation within the communities we serve and with our customers. Through residential pest control, commercial pest control, mosquito control, termite control, and more, we have what you need to keep your property free of pests!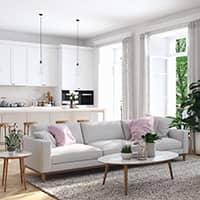 Residential Pest Control In Williamstown, MA
Don't trust just anyone with your home and family's pest control needs, put your trust in Massachusetts's oldest family-owned pest control company, American Pest Solutions. We have the experience and industry-leading technology needed to solve even the toughest of pest problems. By implementing our Pest Guard home pest control program you can have the peace of mind knowing that your pest problems will be completely solved and won't return. After our initial visit to your Williamstown home, the Pest Guard program provides a minimum of 4 visits during a 12 month service period, and includes an evaluation of your home, followed by treatment for existing pest problems. In addition to our comprehensive Pest Guard program, we offer targeted solutions to eliminate and/or control specific pests such as rodents, birds, and wildlife. Contact us today to learn more about implementing any of our home pest control programs.
How Dangerous Are Mosquitoes In Williamstown, MA
Unfortunately, just like in other parts of the country, mosquitoes found living in Williamstown can be dangerous. They are responsible for carrying and transmitting serious diseases that can make people very ill, including the very serious West Nile virus. Mosquitoes also have the potential to make our pets ill. They are known to infect dogs with parasitic heartworm, which if left untreated can be life-threatening. To protect your family and pets from coming into contact with hordes of dangerous, biting mosquitoes, the professionals found at American Pest Solutions offer an effective mosquito control program. Our Mosquito Guard program provides relief from mosquitoes throughout their active season (May-October). Our specialists will visit your property every 3-4 weeks, treating the specific areas of your property where mosquitoes are found resting and breeding. The Mosquito Guard program can be completed as a stand-alone service, it can be added to our year-round home pest control program, or it can be utilized as a one-time service. Give us a call to learn more about protecting your family from dangerous, disease-spreading mosquitoes.
Protect Your Williamstown, MA Business From Pests
When it comes to pests and their presence inside a business, the unfortunate truth is that it only takes one customer, seeing one small pest, to call into question the cleanliness of your facility. To maintain a pest-free commercial facility, and protect your business's reputation within the Williamstown community, partner with American Pest Solutions today and allow us to put into place a professional commercial pest control program. Let us do what we do best, protect commercial properties from pests, so you can concentrate on what you do best, run a successful business. Our prompt, 24-hour commercial pest control services provide the services needed to not only eliminate current pest problems, but to prevent their return as well. For added ease, we also offer our exclusive Transparent Accountability program. This program allows our customers to easily secure online access in order to pay invoices, view and update account information, view and print statements, schedule service, and view billing and service history, in addition to detailed device inspection with barcode reporting. Get started today protecting your Williamstown business from pests by giving the experts at American Pest Solutions a call.
Guide To Termite Prevention In Williamstown, MA
The good news when it comes to termites is that they are not directly harmful to people. In fact, people rarely ever come into contact with termites. The bad news is, termites are very harmful to the structures where people live. The damage they cause inside the structure of a home can become extensive and very costly to repair. In order to combat dangerous termites, the professionals found at American Pest Solutions offer two different termite control options. Each option uses termites natural habits against them to completely eliminate their colonies.

Option 1 is our Advance® Termite Bait System: This system works to control termites through the use of bait stations that are placed around your property. Foraging termites enter the bait stations and ingest the bait. They then return to the colony, exposing the rest of the colony to the highly effective bait. The bait acts as a growth inhibitor to quickly eliminate the entire colony, including the queen. The bait stations remain in place where they are routinely monitored by our professionals to help prevent future infestations.

Option 2 is our Liquid Termiticide Treatment: A liquid termiticide is applied underground around your home's foundation. Termites pass through the treated soil to make their way into your home. When they return back to the colony, they bring the treated soil with them, completely eliminating the colony.

To learn more about our termite elimination and prevention services, reach out to the experts at American Pest Solutions today!