Springfield, MA Pest Control
Located in Western New England, recognized as the city where basketball was invented and well known for it's "Painted Ladies" Springfield, Massachusetts also has its share of pest problems. At American Pest Solutions, we realize bugs, rodents and wildlife have no place in homes or businesses. For over 100 years, our locally owned and operated pest control company has been protecting people and property in Springfield. If you're seeing ants in the kitchen, have a squirrel in the attic or have other creepy critters lurking around, this Springfield pest control firm is ready to help!
American Pest Solutions is a local, family-owned and operated company that has been providing quality pest solutions for over 100 years. Since 1913, we've been servicing properties throughout the Hartford-Springfield region with comprehensive commercial and residential pest control. Our company has been run by four generations of the Russell family, and we maintain our goal of "protecting your family from unwanted pests in Western Massachusetts and Connecticut." Get in touch with us today for your complimentary evaluation.
American Pest Solutions
1260 Suffield St.
Agawam, MA 01001
(413) 781-0044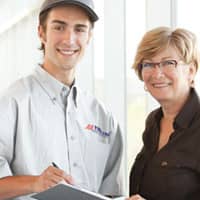 Residential Pest Control In Springfield, MA

The team at American Pest Solutions is proud to protect local homes with trusted residential pest control solutions. We're committed to providing you and your loved ones with year-round coverage from a long list of common area pests, such as mice, spiders, sowbugs, millipedes, centipedes, carpenter ants, and wasps. Our home services include:

Pest Guard Home Plan
Professional evaluation by state-certified, licensed pest control consultant.
Rodent traps in the basement and garage.
Treatment of peaks, eaves, overhangs, and shutters.
Termite monitoring stations around exterior perimeter.
Active baiting programs and station throughout the dwelling.

Once we complete your customized pest treatments, we'll return quarterly to keep things pest-free and protected. With over 100 years of experience in quality pest control, you can rely on us for lasting results that you and your family can feel good about. Call us today and find out more about why professional residential pest control could be the perfect option for your home.
Commercial Pest Control In Springfield, MA
It's upsetting to know that your Springfield business is susceptible to pest infestation, but luckily you can take action by calling us at American Pest Solutions. We provide dependable commercial pest control services to all kinds of local businesses and facilities. Our team specializes in bed bugs, pest birds, rodents, termites, ants, roaches, and wildlife. We're proud of our experienced staff, which includes state-certified and licensed pest control consultants, as well as a board-certified entomologist.

Once we determine the nature of your pest situation, we work with you to come up with the most effective plan of action to treat your business. Our trademarked program, "Transparent Accountability" allows you exclusive access to view statements, pay invoices, review your billing and service history, and also schedule treatments. Reach out for your free evaluation and start your commercial pest management program today.
Wildlife Removal & Control: What Springfield Resident Ought To Know
Wildlife like raccoons and squirrels can be extremely destructive to your Springfield home. They cause a lot of serious damage to property, compromising the home's structural integrity and putting you and your loved ones in harm's way. That's why it's crucial to know what they're capable of. Here are some habits of local wildlife:

Digging underneath the porch or deck, and destabilizing the structure.
Damaging gardens, yards, vegetable plants, and fruit trees.
Damaging fencing around the perimeter of the property.
Damaging the attic, and contaminating insulation with urine and feces.
Contaminating surfaces, food, drinks, etc.
Foraging through garbage, and scattering it everywhere.
Posing threat to domestic pets, like cats and dogs.

Here at American Pest Solutions, we provide complete wildlife removal and control services in order to protect your property from these potential problems. Contact us today to discuss your wildlife control needs; we look forward to your call.
How To Prevent Fleas & Ticks On Your Springfield Property

Fleas and ticks are a year-round presence here in Springfield, meaning everyone on your property is vulnerable to the consequences that come with them. Both of these parasitic, blood-sucking pests have the ability to transmit a variety of diseases through their bite. Whether it's tapeworm from a flea, or Lyme disease from a tick, it's something to avoid.

Here are some helpful tips for minimizing your exposure to flea and tick activity:
Check everyone (including pets) for any ticks/fleas after being outside.
If you have pets, treat them with a flea bath and/or flea spray.
Shower yourself and your pets after spending time outdoors.
Treat your clothing with, or buy clothing pre-treated with, permethrin.
Use tick and flea repellents on the exterior of your home.
Wash and dry all clothing, bedding, linens, laundry, and upholstery on high heat.

If you suspect any flea or tick activity on your property, call in the team at American Pest Solutions right away. We will assess the situation, and come up with the appropriate treatment plan to fit your needs. We guarantee continued protection from these parasitic pests. Call us today to get started with our flea and tick services.
Why Every Springfield, MA Property Should Have Termite Protection
Termites are the bane of homeowners across the nation due to the damage they leave behind in homes and buildings they infest. Their damage can be widespread, is costly to repair, and is not typically covered by homeowner insurance. Worse, it can take months or even years for their presence to be discovered, by which time catastrophic damage might have occurred.
Protect your Springfield home with the help of a professional termite treatment plan from American Pest Solutions. Our Advance® Termite Bait System controls termites through bait stations placed around your property. The bait acts as a growth inhibitor and works to quickly eliminate every single member of the colony. The Advance® Termite Bait System remains in place on your property where it is routinely monitored.
We also offer a conventional treatment option that utilizes liquid termiticide to eliminate termites on your property. An EPA-registered material is applied under the ground around your home's foundation, and when the foraging termites pass through the treated soil, they bring it back with them to the colony. This leads to total eradication of the colony within 15-15 days.
Worried about termites in your Springfield home? Contact us today for permanent termite protection from American Pest Solutions.
Preventing Carpenter Ants Damage Springfield, MA Homes
While they are not as notorious, carpenter ants can be just as destructive to homes in Springfield. Much like termites, carpenter ants are attracted to damp wood to make their homes. However, while termites eat wood, carpenter ants merely tunnel through it, building their colonies within your walls. This weakens the structure of the walls, damaging your home in the process.
Here are some key ways you can prevent carpenter ants from damaging your Springfield home:
Repair any leaking faucets or pipes around your home
Fix any other moisture problems in and around your home
Seal any holes or tears in your homes walls and siding
Keep exterior doors and windows closed except when in use
Place screens on windows and doors
Keep brush and landscaping away from the house so ants can't use it as a bridge to get in
Remove any organic yard debris such as tree stumps, fallen trees, or logs
Keep wood piles placed at least 10 feet away from the exterior of the home
As always, the best way to prevent destructive pests like carpenter ants from invading is through a year-round protection plan from an certified pest control provider. The experts at American Pest Solutions utilize proven techniques to place a pest barrier around your home keeping not just carpenter ants, but other annoying pests out as well. Contact us today for more details.
Problems Bees & Wasps Bring To Springfield, MA Properties
Bees and wasps thrive around Springfield in the spring and summer months, making them a common nuisance. However, the stings from bees and wasps can be both painful and hazardous to your health, making them a nuisance no one can afford to let take over their lawn. But attempting to remove them on your own carries its own hazards.
Wasps and honey bees are each beneficial to the environment, but they put you and your family at risk for painful stings or severe allergic reactions. They can even damage your home, since moisture problems can result when they nest behind your walls.
You should never try to remove a paper wasp, honey bee, or yellowjacket nest on your own because they can be extremely aggressive when their nests are threatened, and could end up attacking you. In addition, the removal of these insects could have a negative impact on the local ecosystem. Attempting to deal with stinging insects problems on your own can actually cause more harm than good by harming the bees, wasps, and yellow jackets that are all important pollinators in our area.
If stinging insects are causing you a lot of stress this summer, call on the good guys at American Pest Solutions to protect your friends and family from these painful pests! Contact us today for more details about our comprehensive stinging insect treatment options.
Tips To Keep Mice Out Of Your Springfield, MA Home
Mice are responsible for carrying and spreading numerous diseases, causing structural damage, destroying personal property, and contaminating food sources they get into - making them a pest no one should have to deal with.
Here are some tips you can use around your Springfield home to minimize your risk for mice:
Keep all food stored in sealed containers
Clean up spills immediately
Don't leave dirty dishes out overnight
Trim back tree branches and overgrown vegetation from your home's exterior
Place woodpiles, gardens, and compost piles away from the exterior of your home
Use outdoor trash cans with locking lids on them
Remove bird and other wildlife feeders from your property.
Seal any holes or gaps that lead into your home
To protect your home and property from rodents, American Pest Solutions recommends putting into place professional rodent control. We offer comprehensive rodent removal and structural repair services to eliminate rodents from properties. This rodent control service includes a full inspection, the sealing off of pest entry points, and the complete elimination of a rodent infestation from your home.