Suffield, Connecticut Pest Control
With over three hundred fifty years of rich history, fertile farmlands, and peaceful sunrises, Suffield, CT is the crowning jewel of the Connecticut River Valley. Only minutes away from grand attractions, endless forests, and exciting cities, residents of this endearing town find that it is never boring living within Suffield's borders.

The long history and growing population of Suffield, CT has not endured without its fair share of challenges, including the ones posed by household pests such as rodents, mosquitoes, and bed bugs. Proudly protecting the homes and businesses of our hardworking friends and neighbors, American Pest Solutions is Suffield's premier pest management company for pest infestations big or small.

Return your property to the pest-free state you desire when you call our Hartford, CT office at (860) 745-0123 today. For immediate assistance and emergency treatments, call our rush hotline at (888) 324-7025.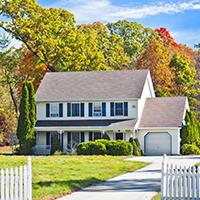 Home Pest Control In Suffield, CT
American Pest Solutions understands that our fast, effective, and knowledgeable treatments must serve a wide variety of needs. That's why our company has worked tirelessly to provide a completely integrated pest control system under the Pest Guard Home Pest Control Plan.
Our highly qualified agents will visit your home on a quarterly basis to treat any current pest control concerns and focus on their future prevention.

Our Pest Guard plan fights against mice, sowbugs, spiders, ants, and so much more with every visit.

Termite control and treatments are included with this plan, with monitoring services active from April through October.
When you're ready to take the next step from pest awareness to pest protection, rely on the trustworthy expertise of American Pest Solutions.
Commercial Pest Control In Suffield, CT
Your business is an enormous part of your life, which is why it deserves the same powerful, effective pest control plans available to residential customers. Businesses enrolled in our commercial pest control plans will receive flexible treatments and prevention against pests such as:
Rodents such as rats and mice

Termites

Ants

Cockroaches

Wildlife such as pest birds, raccoons, and squirrels
A pest-free business begins with the friendly and knowledgeable experts at American Pest Solutions. Get your free commercial estimate and one-on-one consultation when you fill out the convenient contact form below.
Guide To Minimizing Mosquitoes In Suffield, CT
Mosquitoes are an ever-present pest here in the Hartford area, raising the risks for parasites, diseases, and other harmful health effects. Completely eliminating their activity in the lawn or garden is not an achievable goal, but minimizing their presence is an action that every home and business owner can take right now. Three of the best steps to take when minimizing mosquito activity includes:
Wearing long pants, shirts, and socks while working in the yard.

Emptying out, draining, or treating any standing water sources in the yard.

Using citronella candles or topical sprays to mitigate your attractiveness to the bugs.
If you are tired of attempting to prevent mosquito outbreaks with little to no positive results, call in the mosquito professionals at American Pest Solutions now.
Would You Know How To Spot Bed Bugs In Suffield, CT?
Contrary to popular belief, bed bugs are not tiny, invisible insects that somehow find their way into your bedsheets and mattresses. In fact, these blood-sucking bugs are very visible. You just have to know where to look for them.

Bed bugs are very shy creatures and are nocturnal in their feeding habits. Hence, spotting one of these insects on the move can prove difficult to the heavy sleeper or untrained eye. Thankfully, there are a few methods of spotting bed bugs that do not require expensive tools or sophisticated techniques.
Bed bugs leave behind rusty brown-red spots on the surfaces they crawl on. These spots are especially visible on pillows and pillowcases, bed sheets, comforters, and cloth furniture such as couches and armchairs.

Bed bugs can be drawn out of their hiding places using a flashlight and a thin plastic object such as a credit card. Scraping along the sides and corners of a suspected object, hold your flashlight at an angle to check for the scurrying movement of bed bugs. If found, call American Pest Solutions immediately for advice or to sign up for treatments.

Sometimes you must rely on your nose rather than your eyes to discover bed bug activity. A high volume of bed bugs in a home or business gives off a musky or sweet scent from an unknown origin. To confirm that this scent is truly due to a bed bug infestation, call the professionals at American Pest Solutions for a K9 bed bug inspection. Our bed bug-sniffing dogs provide highly accurate bed bug detection.
If you already know that bed bugs are present within your home or business, now is the time to take action against them. Trust American Pest Solutions to protect your home and business today.