Becket, MA Pest Control
To help keep your Becket, Massachusetts home or business free of the many insects, rodents, and wild animals that also, unfortunately, live in Berkshire County, turn to American Pest Solutions and our over 100 years of pest control experience. We are a locally owned and family-operated company. We take pride in having an outstanding reputation within the communities we serve and provide exceptional pest control services that meet the unique needs of Western Massachusetts home and business owners. Let us protect your family from unwanted pests, give us a call today to learn more.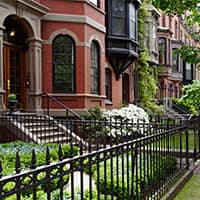 Residential Pest Control in Becket, MA
American Pest Solutions has the experience and industry-leading technology needed to solve any pest problem that pops up in any Becket home. We have strategically developed our Pest Guard home pest control program to provide homeowners with the peace of mind to know that pests will no longer have access to their home and family. Our Pest Guard home pest control program eliminates pests and prevents their return. Protecting your home from pests begins with an initial visit where our pest control consultants evaluate your home and treat existing pest infestations. The initial visit is then followed up by a minimum of 4 visits during a 12 month service period. At each visit, you receive a new evaluation of your home, and exterior treatment (and interior if needed). Contact us today to learn more about implementing our Pest Guard program into your Becket home to protect it and your family from pests throughout the entire year.
Why Becket, MA Residents Need Mosquito Control
Mosquito control is important to minimize your exposure to mosquitoes and protect yourself and family from the diseases they can spread. Mosquitoes have the potential to spread serious diseases including the very dangerous West Nile Virus. To greatly reduce the number of mosquitoes living and breeding on your Becket property, American Pest Solutions has created our Mosquito Guard program. This program provides:
A Reduction in mosquito numbers from May thru October- their active season.

Treatment by one of our specialists every 3-4 weeks where mosquitoes are found resting and breeding on your property.

The option of the program being completed as a stand-alone service added on to our year-round home pest control program, or as a one-time service.
To learn more about our Mosquito Guard program, please give the experts at American Pest Solutions a call today.
Commercial Pest Control Solutions in Becket, MA
Keeping pests out of your Becket commercial facility is difficult because there are so many ways they can find their way inside, including:
Inside packages and boxes.

Through gaps in the foundation and around windows and doors.

Through open garage/delivery doors.

On the clothing, shoes, or other personal belongings of people.

Through sewers and pipes.

Through vents and around utilities entering into your facility.
To keep pests out and to protect your facility, customers, employees, inventory and reputation from pests, American Pest Solutions offers specialized commercial pest control services. Our industry-leading, environmentally friendly solutions eliminate pests from your business and prevent their return. Our exclusive Transparent Accountability program allows our commercial customers to easily secure online access to pay invoices, view and update account information, view and print statements, schedule service, view billing and service history, and more. Give us a call today and stop your Becket commercial facility from becoming a home to area pests!
Protect Your Becket, MA Property From Termites
Don't let wood-eating termites find their way into your Becket home; protect it from termites and their costly damage with the help of American Pest Solutions. We offer two different termite control options; each using the termite's natural habits against them. Our Advance® Termite Bait System controls termites by placing bait stations around your property. Foraging termites quickly enter into the bait stations and ingest the bait. They then return to the nest, exposing the rest of the colony to the bait which acts as a growth inhibitor and quickly eliminates all the termites, including the queen. After the infestation is eliminated, the bait stations remain in place, where they are monitored by our professionals to prevent future problems with termites. We also have a liquid termite treatment option. A liquid termiticide is applied underground around your home's foundation. Termites pass through the treated soil and when they return back to the colony they bring the treated soil with them, exposing the colony to it and completely eliminating it. To learn more about protecting your home from termites by partnering with American Pest Solutions, reach out to us today!