East Longmeadow, MA Pest Control
East Longmeadow is a delightful city located in Western Massachusetts. This city is part of Hampden County and offers its residents many things including a close commute to major area cities, access to beautiful Heritage Park, a bustling downtown district, and great residential neighborhoods. If the Fourth of July is one of your favorite holidays, then East Longmeadow is the perfect place for you, hosting one of Western Massachusetts' largest Fourth of July events! In addition to great people, businesses, homes, and events. To protect your home or business from the many pests that also live in Western Massachusetts, trust the pest control experts that have been in the business of protecting properties from unwanted pests since 1913 - American Pest Solutions. We have the experience, dedication, and modern services needed to get and keep pests out of your East Longmeadow home or business!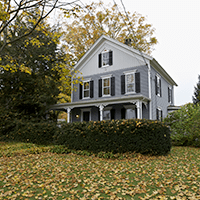 Residential Pest Control In East Longmeadow, MA
Listed below are some of the many reasons that you should choose American Pest Solutions to protect your home and family from invasive pests.
American Pest Solutions is Massachusetts oldest family-owned pest control company, we have the experience needed to handle even the toughest of pest problems.

We have available a 24-hour answering service to help protect our residential customers from the threat of pest problems.

We provide complete, year-round, comprehensive protection against pests to protect East Longmeadow households from pest damages and dangers.

Our home pest control plan was developed by our on-staff Board Certified Entomologist.

Our pest professionals are state-certified, licensed and are continuously being field-trained and educated.
To protect your East Longmeadow home from pests year-round trust American Pest Solution's Pest Guard program. This program includes an initial visit that is followed by a minimum of 4 visits throughout the next 12 months, an evaluation of your home and treatment of existing pest problems at each visit, termite coverage that monitors your home for termite activity from April thru October, and fast, reliable service. Give us a call to learn more about American Pest Solutions and our quality residential pest control solutions!
Tips To Prevent Ticks In East Longmeadow, MA
Having ticks living on your East Longmeadow property in large numbers is dangerous for you, your family, and your pets. Ticks feed on the blood of many different hosts, meaning that they have the ability to carry and spread many different, potentially dangerous, diseases, including Lyme disease. To make your property less attractive to the wild animals that often carry and introduce them to your property and to the ticks themselves, we want to offer the following prevention tips.
Keep your grass mowed, and cut-back overgrown vegetation from the edges of your property.

Under the guidance of a veterinarian, use tick control products on your pets.

Remove piles of leaf and yard debris from your yard that ticks like to hide underneath of.

Keep woodpiles away from the exterior of your home.

Do not feed birds or other wild animals on your property.
For added protection against ticks, contact the tick control experts found at American Pest Solutions. After a thorough inspection of your property we will develop a plan of action that is specific to your East Longmeadow property and which will work to help reduce the numbers of blood-feeding ticks found living and breeding in your yard.
Commercial Pest Control Solutions In East Longmeadow, MA
Protect your East Longmeadow commercial facility, your product, your reputation, and people from the dangers and damages that pests can cause by partnering with the commercial pest control experts at American Pest Solutions. Our commercial pest control services will provide you with the industry-leading services needed to protect your facility from a wide range of pests. Our fully licensed technicians can provide the specialized services needed to protect your business from specific pests like bed bugs, pest birds, rodents, termites, ants, roaches, and wildlife. For added peace of mind that we are meeting all of your company's pest control needs, we have developed our exclusive Transparent Accountability program. This program allows our customers to secure online access to pay invoices, view and update account information, view and print statements, schedule service, view billing and service history, and detailed device inspection with barcode reporting. Learn more about our commercial pest control solutions, by contacting us today at American Pest Solutions!
What Do Bed Bugs Look Like In East Longmeadow, MA
Bed bugs are parasitic pests whose favorite food source happens to be human blood. While their eggs and young nymphs can be hard to spot, the adults can easily be seen with the human eye if you know what you are looking for. Adult bed bugs grow to be about 1/4 of an inch in length. They are reddish brown in color, although if they have recently fed they may be a more purplish color. Along with knowing what they look like, it is important to know what the common signs of their presence are. Finding rust colored spots or dots of blood on bedding, mattresses, bed springs, carpets or walls is a very common sign of a bed bug infestation, the blood spots are left behind as they feed. A bed bug infestation can also be discovered after noticing piles of molted skins along the seams or underneath of mattresses and box springs, or after finding dead or live bed bugs on mattresses and box springs, in upholstered furniture, in the cracks of wooden furniture or walls, or even inside of computers or keyboards. If there is a bed bug infestation you or family members may also discover bed bug bites, however, this is not a reliable indicator of an infestation because not everyone will have a reaction to their bites.
If you ever see bed bugs or their signs in your East Longmeadow home, immediately contact the bed bug control experts at American Pest Solutions. We always begin with a K-9 bed bug inspection. Our K-9 inspections are fast, non-invasive, and extremely efficient. After the inspection, our professionals will develop a plan based on the specifics of the infestation. In most cases, we use a combination of non-chemical controls and chemical pesticides. To get the best results 3 treatments are usually completed within a one month period. To learn more, give us a call today.