West Springfield, MA Pest Control
West Springfield, Massachusetts, has long been considered the "Crossroads of New England". From here you can retain that rural feel that you look for when you want to raise a family. Our diverse lifestyle offers some unique opportunities to live in a neighborhood that you can afford, while having the neighboring cities close at hand so that you can visit places like Quincy Market in Boston, go see the Dr. Seuss National Memorial Sculpture Garden in nearby Springfield, or even ride the roller coaster at Six Flags New England in Agawam. The residents that live in West Springfield are understandably proud of a thriving population and business district where you do not have to go far from home to take care of your family. Unfortunately, when you have a thriving community like West Springfield, you can't help but take note that there is also a healthy pest population that depends on their human hosts for survival. Thanks to American Pest Solutions, you can help control the pest population on your property before it can become a problem.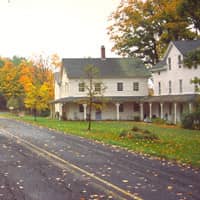 Home Pest Control in West Springfield, MA
When you think about what pests might be a problem for your home in West Springfield, you probably think about mice, ants, cockroaches, or termites, but part of living in a rural area close to the city limits mean you must also consider animals such as squirrels, raccoons, skunks, and even bats as a potential problem in your neighborhood. American Pest Solutions is West Springfield's premiere source for residential pest control. Our team can assess your own unique situation to discover what might already be living too close for comfort in your home and take steps to safely remove the threat, and keep nuisance, harmful, and damaging pests away with one of our year-round packages.
West Springfield, MA Squirrel Control & Wildlife Removal
In West Springfield, we have a large squirrel population that sometimes will interfere with daily life for your property. Squirrels and other wildlife will move into an area where they have access to food, shelter, and water; so it is not uncommon for them to set up camp in your yard, or worse, in your attic or garage. Wildlife that has moved into your home can be a danger to your property with their destructive nature or to a member of your family if the animal should feel cornered and bite or scratch someone in their efforts to get away. It is better to give American Pest Solutions a call to come safely remove the threat from your home and release it where it can do no harm with our wildlife program.
West Springfield, MA Termite Control Services
One of the most destructive pests to be found in your West Springfield home is termites. In West Springfield, as in the rest of the country, termites can cause a lot of damage, often without a homeowner even knowing that they are there. American Pest Solutions can be there to help remove termites from your home and help you assess the damage. Even better, we can help control the pest population year round and stop the problem before it can become one with our termite control services.
Massachusetts Pest Control Experts Since 1913
American Pest Solutions has been taking care of your pest control needs here in Massachusetts for over 100 years. In 1913 Abraham Russell began American Pest Solutions as a family run business and it has remained so ever since. Today, the fourth generation of the Russell family has taken over the family business. Robert Russell, American Pest Solutions president and expert witness has personally inspected and treated over 10,000 buildings. Bob knows just what to look for when inspecting and treating any structure and has passed that knowledge on to his team of professional technicians who are ready to help you make sure that your home is pest free offering a comprehensive list of services including;
Bed Bug Control
Bird Control
Mosquito Control
Rodent Control
Termite control
Life in West Springfield is good. With American Pest Solutions on your side it can be even better. Give us a call today to set up your free initial consultation.