Easthampton, MA Pest Control
Easthampton, located in Western Massachusetts, is a city that maintains its New England charm while continuously transforming to meet the needs of the time. This city started as a farming village, then become a booming mill town, and is now a diverse community of people that work together to ensure that Easthampton meets the needs of its vibrant residents! To help meet the pest control needs of your home or business, Easthampton residents can put their trust in American Pest Solutions. We have been providing pest control services since 1913 and like Easthampton, we are continuously working to improve our services and offer our customers the most effective, modern, and eco-friendly pest control possible. To learn more about controlling and eliminating pests that reside in Easthampton, get in touch with us today at American Pest Solutions.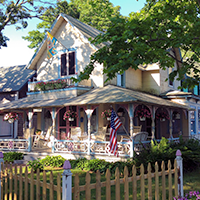 Residential Pest Control Services in Easthampton, MA
To keep pests out of your Easthampton home and away from your belongings, food, and family, we have developed a highly effective year-round residential pest control program. Our Pest Guard program provides the continuous, year-round protection that is needed to eliminate and control common household pests. Our Pest Guard home pest control program includes an initial visit that is followed by a minimum of 4 visits throughout the next 12 months, an evaluation of your home and treatment of existing pest problems at each visit, termite coverage that monitors your home for termite activity from April thru October, and a 24-hour answering service! To learn more about the benefits of choosing the Pest Guard program for your Easthampton home or about our targeted solutions to controlling and/or eliminating specific pests including rodents, birds, bees, wasps, wildlife and honey bees, get in touch with the professionals found at American Pest Solutions today!
What Do Bed Bugs Look Like in Easthampton, MA
The good news is that bed bugs in Easthampton look no different than the bed bugs found in neighboring states, or even across the country for that matter. The bad news is that bed bugs are found living across the country including in Easthampton, MA. Knowing what bed bugs look like no matter where you are is important so that if you ever come across these parasitic pests in your home, you can act quickly and get the professional help that is needed to eliminate these pests. The most easily identifiable stage of bed bug is their adult stage. Adult bed bugs grow to about 1/4 of an inch in length, or about the size of an apple seed. They have six legs, have an oval, flat shaped body, and are reddish-brown in color. If they have recently had a blood meal their bodies will appear slightly swollen and more elongated in shape; they will also turn a more purplish-red color. If you suspect that you are dealing with bed bugs in your home or business it is very important that you schedule a K-9 bed bug inspection from the experts found at American Pest Solutions. Our K-9 inspections are fast, non-invasive, and extremely accurate. If bed bugs are ever discovered, our professionals will develop a plan based on the details of the inspection to eliminate the bed bugs from your property as quickly as possible. Bed bug infestation can be very hard to combat once they have settled in and spread out, so don't wait to seek treatment that is known to work, the treatment that American Pest Solutions provides.
Commercial Pest Control Services in Easthampton, MA
Don't let the quality of your business ever come into question because of a customer seeing pests in your facility. Trust the commercial pest control experts at American Pest Solutions to provide you with the support and services needed to maintain a pest-free environment. Our specialists are well-versed in the needs and requirements of commercial pest control; they are continuously being field-trained and are provided with specialized education by our board-certified entomologists. We can provide the customized pest control services you need to protect your facility and its reputation from being damaged by bed bugs, pest birds, rodents, termites, ants, roaches, and wildlife. All of our commercial pest control services are implemented according to treatment plans developed specifically for your facility, because it is our business to know that no two businesses are exactly the same and that all businesses deserve their own customized pest control.
How To Get Rid Of Clover Mites in Easthampton, MA
Clover mites look to be very tiny unassuming pests, but having your home invaded by thousands of these tiny mites can become a big nuisance and may point to moisture problems within your home. As their name suggests clover mites are usually found outside feeding on clover, grass, weeds, and other plants. These true mites are closely related to both spiders and ticks, and only grow to be about the size of a pinhead. Most are bright red in color, but depending what they are feeding on they may be brownish or greenish in color. They have four pairs of legs with their front pairs of legs being the largest in size. Clover mites enter inside of home through cracks and crevices found in the foundation and exterior walls, attracted by damp conditions that are found inside or when they are searching for a warm spot to overwinter inside of. The best way to get rid of these pests from your Easthampton home is to reduce moisture levels both inside and outside, and for stubborn infestations consider a year-round pest control program. Implementing a year-round pest control program ensures that any clover mites currently living in your home are treated for and that a barrier is put into place to prevent these and other pests from entering your home. For more information about clover mites and how we can help to rid them of your home and property, get in touch with us today at American Pest Solutions!