Granby, Connecticut Pest Control
Grandy, CT, located in Hartford County, is home to several parks and trails. The Farmington Valley Greenway passes through Granby, and the main entrance to the McLean Game Refuge is in this town. Whether you spend a lot of time outdoors or not, you know that Granby has its fair share of pests, such as wildlife, termites, mosquitoes, and more.

For residents and business owners in Granby, American Pest Solutions is a great contact to have. We service Massachusetts and Connecticut and help both home and business owners keep their properties safe from the many harmful pests that are active in Granby throughout the year.

We're a family-owned company active since 1913. No matter what pest is causing problems in your home, we have a solution.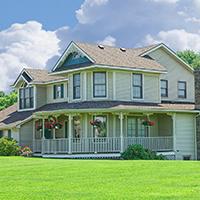 Home Pest Control In Granby, CT
Your home is your safe space, and we want to help you keep it that way. There are a lot of possible dangers for a home, including pests like termites and rodents. With our help, you can take care of life without worrying about the pests trying to get into your home.

Our main integrated pest management program, called PestGuard, protects against some of the most common household pests, such as spiders, ants, and cockroaches. It also includes termite monitoring and routine visits throughout the year. We also offer specialized services for bed bugs, pest birds, mosquitoes, rodents, and other wildlife.

Here at American Pest Solutions, we designed PestGuard with help from our board-certified entomologist. It focuses on exclusion techniques and structural improvements to make sure that you see long-term results. We start with an inspection and create a treatment plan that fits your unique needs because we know how important your home is to you.
Commercial Pest Control In Granby, CT
American Pest Solutions also offers reliable pest control services to businesses in Granby. Because a pest infestation can be so damaging to a company, we provide 24-hour assistance to our commercial customers. In addition, we keep you involved through our online platform, Transparent Accountability. This platform allows you to view and pay bills, schedule services, view a history of services, and more.

We specialize in eliminating ants, bed bugs, birds, cockroaches, rodents, and wildlife, but the list of pests we can take care of continues. Our services are environmentally friendly and safe for you, your employees, and your customers.

Our board-certified entomologist helps keep our treatment plans relevant and up to date so we can offer the most innovative and efficient approach to your pest problems. Don't let pests damage your reputation or property. Instead, call us to find out how we can help solve your problem and provide long-lasting results.
3 Problems Wildlife In Granby, CT Cause
Connecticut overflows with wildlife. When you're out hiking, it can be exciting and refreshing to see a herd of deer or a beaver in the distance. However, when it comes to your yard, you don't want to be worried about badgers, raccoons, squirrels, or other wildlife. Why? Here are just three reasons you should consider professional help keeping wildlife out of your yard and home:
Wildlife often attracts other pests. Many animals carry ticks and fleas. They'll drop these pests in your yard where your family and pets may pick them up. An increased wildlife presence will also attract flies and cockroaches.

Wildlife can damage your property. Many wild animals will eat plants from your garden or chew holes in the exterior of your home while trying to find warmth inside. If wild animals get inside, they may contaminate food, chew on wires, and leave their fecal matter throughout the house.

Last point — wildlife can harm you and your family. Many wild animals carry diseases, which can be transmitted by direct contact or contact with fecal matter. They may also be aggressive, and a bite from a wild animal can result in dire consequences. Also, wild animals may trigger asthma and allergy symptoms.
When it comes to wild animals, your best bet is to ask American Pest Solutions for help. We start with the humane removal of the animal in question, followed by a safe relocation far from your home. Once the threat is gone, we'll help you make sure the results are long-lasting.

We work with you to fix any structural damage that could lead to more pest infestations. We'll also help you animal proof your home, whether that means fixing cracks and holes in the exterior of your home or making landscaping changes to make your yard less appealing and accessible to wild animals.
How To Spot Termite Damage In Granby, CT
Some pest infestations are apparent. For example, it's hard to ignore ants crawling across your counters, and mice leave obvious evidence in the kitchen. However, termites are a pest that can be almost impossible to detect. Connecticut has subterranean termites, a species that lives underground and builds tunnels in which they can travel to and from the wood they eat.

Termites can't survive out in the open. Only swarmer termites emerge once a year to mate and create new colonies. So unless you spot some flying termites, you may have no idea that they are destroying the inside of your walls. If you don't find them early on, they will cause significant damage. Here are some signs that termites might be damaging the structure of your home:
When termites eat away at the wood in your home, they cause structural damage. You may begin to notice bumps in the walls, floors may appear uneven, or the ceilings may seem to dip down.

Another sign that termites have damaged your home is that you have difficulty opening and closing the doors and windows. Also, the wood around doors and windows may appear enlarged.

Even though you aren't likely to see termites, you may see tunnels that hint at their presence. You will find these mud tunnels around the foundation of your home. Termites will use them to get from their underground nest to the interior of your house. They'll be small raised lines of mud.
If you see any of these signs, call American Pest Solutions for quick service. Or, if you want to avoid the headache in the first place, invest in PestGuard. Our integrated pest management service includes termite monitoring so that you'll know when termites are in your home before they can do damage.

American Pest Solutions has plenty of experience dealing with several pests in the Granby area. Whatever pests have made their way into your home, we can clear them out. Invest in year-round protection for help preventing pests before they can cause any damage to your home or harm to your family.