East Windsor, Connecticut Pest Control
In East Windsor, every season brings a new reason to enjoy the landscape. In the spring, there are community activities like Easter egg hunts, and you can enjoy the warmer weather at one of East Windsor's many parks. Summer brings with it events like movies in the park or the concert series in Etra Lake Park. Fall is the perfect time to explore one of East Windsor's pathways, and winter is picturesque no matter where you go.

With so much nature to enjoy, it's important to know who you can count on for pest control help. Although our cold winters can provide some respite from most insects, there are still some year-round pests to worry about. For these, you can count on American Pest Solutions.

We are a locally owned and family operated company involved in the communities where we work, and we know how important your town and your home are to you. Let us help you keep your home free of pests so that your family can continue enjoying the best that East Windsor has to offer.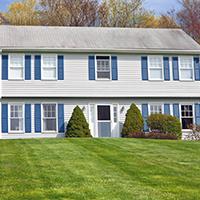 Home Pest Control In East Windsor, CT
You can count on American Pest Solutions for all your residential pest control needs. Our service begins with a free inspection. We'll take a look at your home and find out what pests are plaguing you and why. Together, we'll create a treatment plan that is safe for your family and eco-friendly.

Our protection plan is called PestGuard. This plan includes year-round protection against the most common household pests, such as carpenter ants, centipedes, mice, millipedes, sow bugs, spiders, and wasps. Our year-round protection starts with an interior inspection and the installation of preventative measures. We then visit your home at least four times throughout the year to make sure you get protection that lasts.

As part of our treatment, we may install rodent traps, treat the eaves and overhangs of your roof, and create a liquid barrier around your house to keep pests away. And, if needed, we also offer termite monitoring or additional protection for bed bugs, birds, or wildlife. No matter the pest, we've got the solution.
Commercial Pest Control In East Windsor, CT
At American Pest Solutions, we also work with businesses. A pest problem can quickly damage a company, whether by causing expensive damage or by scaring away customers. We know that you need to keep pests away, and you need quick action if pests get in. That's why we offer 24-hour service to our commercial customers.

Contact us today for a free inspection. We have a team of fully licensed technicians, trained by a board-certified entomologist. By appointment, you can even have our entomologist come by to inspect your building firsthand. We can help you identify pests and pinpoint their entry points. In commercial buildings, it's easy for pests to get in via shipping containers, boxes, pipes, and cracks in the exterior of your structure. We'll help you identify possible access points and find effective ways to seal them.

At American Pest Solutions, we specialize in ants, bed bugs, pest birds, roaches, rodents, termites, and wildlife. However, that doesn't mean we can't also take care of any other pest that has made their way into your building. As with our residential services, our commercial pest control treatments are environmentally friendly and safe for your business.
What Attracts Rodents To East Windsor, CT Homes?
Rodents can be a problem in East Windsor at almost any time of year. Why do they get into homes and businesses? The short answer is food and shelter. They want a warm place to nest, and they want easy access to food. Luckily, we're here to help you avoid inviting them in. Here are some tips for making sure that you don't attract rodents to your home:
Store food properly. The key to keeping out rodents is to make sure you never leave food sitting out overnight, including pet food, crumbs, or even dirty dishes. When you store food, use thick plastic or glass containers with airtight lids. Rodents can chew through thin plastic packaging and cardboard.

Minimize nesting opportunities. Mice and rats want a warm, dark, undisturbed corner of the house to nest in. You'll find them in storage areas like attics, basements, and closets. To avoid attracting rodents, keep these areas organized so that you'll see a nest right away and be able to stop the rodents from spreading.

The best way to prevent mice is to team up with professional pest control services. We focus on structure repair and exterior fixes to seal off entry points. These steps include sealing holes and cracks and using screens to block off vents and other possible entrances. We also use traps and other rodent removal techniques to eliminate any rodents already in your home.
Mice and rats are carriers of many dangerous diseases and bacteria. They can damage property and possessions and contaminate food. Rather than risk a rodent infestation, let American Pest Solutions provide year-round protection so they'll never get inside in the first place.
Practical Steps You Can Take To Avoid Bed Bugs In East Windsor, CT
Bed bugs are tiny black bugs that live in warm, dark areas like bedding, furniture, and carpets. You can come into contact with them in hotels, restaurants, airports, movie theaters, and schools. Here are some tips for avoiding bed bugs and some information in case you can't avoid them:
Be vigilant. Check for bed bugs, stains, or fecal matter before sitting or lying down when traveling.

Don't open suitcases on a hotel bed until you've checked for signs of bed bugs.

After traveling or hosting guests, clean everything thoroughly and wash sheets and clothes in hot water.

Don't take a chance. If you think there may be bed bugs, get help!
American Pest Solutions has bed bug treatments that are quick and efficient. If you think you have bed bugs in your home or business, call us immediately for an inspection. We use a trained K9 team to check for bed bugs. Our trained dogs can sniff out bed bugs and help us to determine the scope of the infestation.

Once we know where the bed bugs are and the extent of the infestation, we can begin treatment, we use a combination of vacuuming and insecticide treatments to make sure that we eliminate every bed bug. To be even more confident that we've solved your problem, we usually conduct three follow-up visits, ensuring your home is bed bug-free.

Bed bugs, rodents, mosquitoes, ticks, ants — American Pest Solutions has years of experience fighting pests in Massachusetts and Connecticut. To protect your East Windsor home or businesses from insects, rodents, and more, consider our year-round PestGuard for pest protection that lasts.