East Hartford, CT Pest Control
East Hartford is a large town located in Hartford County along the Connecticut River. It offers everything that Connecticut home and business owners need to live, learn, work, and play. A benefit to living in East Hartford is that you can protect your property from the area's most invasive pests with the local pest control experts at American Pest Solutions. Through our modern, effective, and affordable pest control services, we can get pests out of your home and keep them out for good. To learn more about our industry-leading residential or commercial pest control services, give us a call today at American Pest Solutions.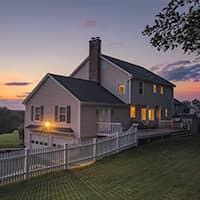 Home Pest Control In East Hartford, CT
Do not let pests take over your East Hartford property. To protect your family and home from our area's dangerous and damaging pests, partner with American Pest Solutions. Since 1913 we have been solving homeowners' pest problems. Our home pest control services create long-term solutions for your pest problems.
Our effective and affordable Pest Guard program was developed by our staff entomologists. It includes:
An initial visit, followed by a minimum of 4 visits throughout 12 months.

An evaluation of your home and treatment of existing pest problems at each visit.

Termite coverage that monitors your home for termite activity from April thru October.

The convenience of 24-hour answering service.
Reach out to us today to learn more about American Pest Solutions and our quality home pest control solutions, one of our friendly experts would be happy to assist you!
Guide To Minimizing Mosquitoes In East Hartford, CT
Mosquitoes are fly-like insects. The females feed on the blood of people and animals. Mosquitoes have the potential to quickly spread a number of serious and dangerous diseases and parasites. To minimize the number of mosquitoes that are drawn your property, we offer the following prevention tips:
Eliminate standing water on your property.

Store containers that can collect water upside down when not in use.

Keep the grass on your property cut short.

Remove areas of overgrown vegetation from your property.

Put into place a professional mosquito-reduction program.
To limit mosquitoes, American Pest Solutions offers our Mosquito Guard program. This program provides homeowners season-long (April- October) protection against these biting pests. It can be completed as a stand-alone service or added onto our Pest Guard home pest control program. Give American Pest Solutions a call today to learn more about our effective solution to your property's mosquito problem.
Commercial Pest Control In East Hartford, CT
Some benefits of implementing a commercial pest control solution are:
It frees up time for you to do what you do best: running your business.

It protects your employees and customers from disease and bacteria.

It protects your business's reputation from being damaged.

It prepares your business for audits and inspections.

It makes employees and customers comfortable in your establishment.
To protect your business from a wide range of pests, partner with the experts at American Pest Solutions. Our commercial pest control services eliminate current pest problems and keep future pests out. We also offer our exclusive Transparent Accountability program. This program allows customers to secure online access to pay invoices, view and update account information, view and print statements, schedule service, and view billing and service history. It also provides detailed device inspection with barcode reporting. Contact us today to schedule an inspection for your East Hartford commercial property.
Do You Know How Much Damage Termites Cause In East Hartford, CT?
Termites are small insects that are rarely seen but have the potential to cause major damage to homes. Termite colonies can be extremely large. When large numbers of termites work together, over time they can consume large amounts of wood, causing significant damage. Termites enter homes from the ground and can silently eat away at a home for months or years before being discovered.
To prevent termites from causing damage to your East Hartford home, implement a proactive termite control solution from American Pest Solutions.
Our Advance® Termite Bait System controls termites through bait stations placed around your property. This option works to quickly eliminate every member of the colony. The Advance® Termite Bait System remains in place on your property where it is routinely monitored.

Our conventional treatment option eliminates termites using liquid termiticides. This treatment option usually eliminates the colony within 15-45 days.
To begin protecting your home against wood-eating termites, schedule a termite inspection from American Pest Solutions today.
Advantages Of Pro Wildlife Removal & Control In East Hartford, CT

When wildlife like raccoons, skunks, and other pests get onto your property, they're looking for two things in and around your home: food and shelter. Wherever they can find food, and wherever they can find a suitable living space, they will infest that area and make it very hard for you to get rid of them.

A common place where wildlife forage for food is in the garbage, so if your trash isn't properly stored outside in well-enclosed cans, you may wake up to find your yard littered in garbage. That's only one consequence. Something else to consider is the fact that wildlife finds their way into your home through small holes and entry points in the attic, porch, deck, or foundation. They can dig holes around the perimeter of your property, travelling underground to get inside of your home.

This is why it's crucial to hire a professional pest control company to make the proper structural modifications that will prevent wildlife from entering. It's important to remember that if you do discover any sort of wildlife activity in or around your home, never try to deal with it on your own. A lot of species of wildlife can become aggressive if cornered. When they feel threatened, they may attack and bite you, putting your safety at risk. Reach out to pros to take care of it for you. We're familiar with common area wildlife, and we offer thorough and continued protection. Call us today to learn more about our wildlife control and prevention services.
Five Ways East Hartford Homeowners Can Prevent Bed Bugs

Obviously, no one wants to be exposed to bed bugs. However, they're not uncommon, and it's always better to be prepared. Here are five preventative measures you can take to reduce your chances of experiencing a bed bug infestation:

Wash all of your linens, bedding, and clothing in hot water, and dry them on high heat.
Steam treat your upholstery to kill off any bed bug activity.
Reduce clutter around the bed, couch, and dresser to reduce potential harborage spots.
Thoroughly inspect all items before they enter your home - cardboard boxes, clothing, luggage.
Put a protective cover around your mattress and box springs to keep bed bugs out (or in).
If you suspect any bed bug activity in your East Hartford home or business, the smartest thing you can do is call in the professionals. Here at American Pest Solutions, our team of highly trained experts know how to effectively treat bed bug infestation, and help you to prevent it from happening again in the future. Reach out for your free quote.
Preventing Bees & Wasps Around East Hartford, CT
While they're an essential part of the ecosystem, bees and wasps can be a nuisance when they start making nests on or around your home. They thrive around East Hartford in the warmer months of the year, and can quickly ruin any time spent outdoors if they're not dealt with.
Here are some effective ways you can minimize your exposure to bees and wasps in spring and summer:
Keep exterior doors and windows screened and shut when not in use
Keep any exterior trash cans closed with tight-fitting lids
Remove any trash or potential food sources from around your yard
Cover any holes or cavities found in cement or grass
Place wasp-repelling plants like marigold, mint, basis, pennyroyal, and geranium
As always, the best way to reduce pests around your home is with the help of a certified pest removal expert. American Pest Solutions technicians are trained to deal with all the dangerous stinging insects that call Connecticut home, and we've got the tools to remove them from your property and prevent them from coming back. Contact us today for more details.
Rodent-Proofing Your East Hartford, CT Home
Rats are a pest that bring many, many problems with them when they come into human homes. Between disease, food contamination, property damage, and a huge mess, they're a nuisance no homeowner should have to deal with, so here are some effective ways you can rodent-proof your home as much as possible:
Inspect your home thoroughly for any signs of holes or potential rodent entry points
Seal any holes or gaps found in your home's foundation or exterior walls
Fill in holes around ducts, pipes, wires, windows, and doors that lead into your home
Install door sweeps on your home's exterior doors
Fit your chimney(s) with capts
Place mesh covers over all vents entering your home
Trim back tree limbs and overgrown bushes and shrubs from your home's exterior
Use exterior garbage cans that have tight-fitting lids
Removing bird feeders and wild animal feeders from your property
Despite your best efforts to avoid rodents, rat infestations are difficult to prevent even for the most thorough of homeowners. Rodents are a difficult pest that require a professional touch to eliminate quickly, completely, and cleanly.
If you rats have gotten into your home, contact the rodent professionals at American Pest Solutions for help. Our comprehensive rodent removal and structural repair services to get rid of rodents can eliminate them from any East Hartford property. Our rodent control services include a full inspection, the sealing off of pest entry points, and the complete elimination of the infestation from your home. Contact us today for more information.