East Hartford, CT Pest Control
East Hartford is a large town located in Hartford County along the Connecticut River. It offers everything that Connecticut home and business owners need to live, learn, work, and play. A benefit to living in East Hartford is that you can protect your property from the area's most invasive pests with the local pest control experts at American Pest Solutions. Through our modern, effective, and affordable pest control services, we can get pests out of your home and keep them out for good. To learn more about our industry-leading residential or commercial pest control services, give us a call today at American Pest Solutions.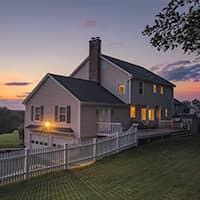 Home Pest Control In East Hartford, CT
Do not let pests take over your East Hartford property. To protect your family and home from our area's dangerous and damaging pests, partner with American Pest Solutions. Since 1913 we have been solving homeowners' pest problems. Our home pest control services create long-term solutions for your pest problems.
Our effective and affordable Pest Guard program was developed by our staff entomologists. It includes:
An initial visit, followed by a minimum of 4 visits throughout 12 months.

An evaluation of your home and treatment of existing pest problems at each visit.

Termite coverage that monitors your home for termite activity from April thru October.

The convenience of 24-hour answering service.
Reach out to us today to learn more about American Pest Solutions and our quality home pest control solutions, one of our friendly experts would be happy to assist you!
Guide To Minimizing Mosquitoes In East Hartford, CT
Mosquitoes are fly-like insects. The females feed on the blood of people and animals. Mosquitoes have the potential to quickly spread a number of serious and dangerous diseases and parasites. To minimize the number of mosquitoes that are drawn your property, we offer the following prevention tips:
Eliminate standing water on your property.

Store containers that can collect water upside down when not in use.

Keep the grass on your property cut short.

Remove areas of overgrown vegetation from your property.

Put into place a professional mosquito-reduction program.
To limit mosquitoes, American Pest Solutions offers our Mosquito Guard program. This program provides homeowners season-long (April- October) protection against these biting pests. It can be completed as a stand-alone service or added onto our Pest Guard home pest control program. Give American Pest Solutions a call today to learn more about our effective solution to your property's mosquito problem.
Commercial Pest Control In East Hartford, CT
Some benefits of implementing a commercial pest control solution are:
It frees up time for you to do what you do best: running your business.

It protects your employees and customers from disease and bacteria.

It protects your business's reputation from being damaged.

It prepares your business for audits and inspections.

It makes employees and customers comfortable in your establishment.
To protect your business from a wide range of pests, partner with the experts at American Pest Solutions. Our commercial pest control services eliminate current pest problems and keep future pests out. We also offer our exclusive Transparent Accountability program. This program allows customers to secure online access to pay invoices, view and update account information, view and print statements, schedule service, and view billing and service history. It also provides detailed device inspection with barcode reporting. Contact us today to schedule an inspection for your East Hartford commercial property.
Do You Know How Much Damage Termites Cause In East Hartford, CT?
Termites are small insects that are rarely seen but have the potential to cause major damage to homes. Termite colonies can be extremely large. When large numbers of termites work together, over time they can consume large amounts of wood, causing significant damage. Termites enter homes from the ground and can silently eat away at a home for months or years before being discovered.
To prevent termites from causing damage to your East Hartford home, implement a proactive termite control solution from American Pest Solutions.
Our Advance® Termite Bait System controls termites through bait stations placed around your property. This option works to quickly eliminate every member of the colony. The Advance® Termite Bait System remains in place on your property where it is routinely monitored.

Our conventional treatment option eliminates termites using liquid termiticides. This treatment option usually eliminates the colony within 15-45 days.
To begin protecting your home against wood-eating termites, schedule a termite inspection from American Pest Solutions today.