Burlington, Connecticut Pest Control
Residents of Burlington, CT, situated in Hartford County, have access to some of the best that nature has to offer. Burlington is at the foot of the Berkshires and located along the Farmington River. The hilly landscape provides idyllic hiking and paved walking trails.

To better enjoy the landscape, residents and business owners should know that American Pest Solutions has been in business since 1913 and serves communities in Massachusetts and Connecticut. For all your pest control needs, contact American Pest Solutions for advice from our certified entomologist and licensed technicians. We'll help you enjoy the outdoors on a pest-free property as well as safety in a pest-free home.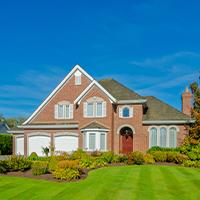 If you live in Burlington, CT, you may encounter pests such as carpenter ants, centipedes, millipedes, mice, sow bugs, wasps, and more. Luckily for you, we have the tools and experience to eliminate these pests from your home.

Our residential service is called PestGuard, and it protects you against many common pests. Also, we can install rodent traps if you suspect you have a rodent infestation. We also offer termite monitoring, as well as termite elimination services, mosquito control, and wildlife removal.

Our first service visit focuses on inspection. We'll check the interior of your home for signs of pests, entry points, and attracting factors. We can then help you with structural repairs and exclusion techniques, including a liquid barrier around the house. Our follow-up visits will address specific pest concerns and exterior inspection and prevention.

There's no reason to put up with a pest infestation. If you need help protecting your home from any of the pests mentioned, or any other, call today for information on how we can help keep your home safe from pests throughout the year.
Commercial Pest Control In Burlington, CT
While American Pest Solutions can help homeowners, we also help businesses. Pests can cause significant problems for commercial buildings such as restaurants, supermarkets, stores, schools, warehouses, and medical facilities. To protect your facility, we suggest preventative pest control from American Pest Solutions.

Our services are carried out by licensed technicians trained by a certified entomologist. We take an environmentally friendly approach and avoid using harsh chemicals when possible. Our online platform, Transparent Accountability, allows us to communicate with you and share our services and materials. It also allows you to schedule services and view billing information.

We specialize in ants, bed bugs, mosquitoes, pest birds, roaches, rodents, termites, and wildlife. Our treatment always starts with an inspection and a conversation with you. Plus, since we know how important it is to keep your business pest-free, we offer 24-hour service to our commercial customers. Don't let pests control your business. Give us a call today.
3 Things You Should Know About Mosquitoes In Burlington, CT
What do you know about mosquitoes? You probably know they cause itchy bites that can last for days. They seem to be everywhere during the summer months, and their constant buzzing can drive a person crazy. Here are some other mosquito facts and information about why, and how, to get them away from your home.
Mosquitoes need water to breed. They lay eggs in standing water, so that bucket in your backyard could be the reason you have so many mosquitoes around your house. To decrease the mosquito population near your home, make sure there is no standing water for mosquitoes to lay their eggs.

Mosquitoes spend a lot of time where there are trees and bushes. Plants provide a protected nesting site for mosquitoes and a great place to hide. By trimming your grass, cutting back foliage, and trimming trees around your property, you might dissuade mosquitoes from sticking around.

Mosquitoes are one of the most dangerous pests because they carry several diseases they can transmit to humans. Some of the diseases associated with mosquitoes include malaria, dengue, and Zika, but there are many, many more. Other than the discomfort, there's a serious health risk that comes with frequent mosquito bites.
If you need mosquito protection, contact American Pest Solutions. We offer a unique program called Mosquito Guard, which specifically targets mosquito breeding and nesting sites. Plus, our mosquito treatment is effective against ticks and fleas, so you'll have extra protection. You can request a one-time service before a big event, or you can opt for routine mosquito treatments throughout the season, which in Burlington is from April to October. The most important thing to know about mosquitoes is who to call to get rid of them.
Did You Know That Termite Damage In Burlington, CT Is Avoidable?
Termites are one of the most dangerous pests inside a home or business. Termites eat the cellulose found in wood, and they often feast on the wooden structures of buildings. Termites can cause up to three thousand dollars of damage to just one house, and Americans will spend over five billion on termite damages each year. Is there any way to avoid this?

It isn't easy to avoid termite damage on your own. In Connecticut, you're most likely dealing with subterranean termites, which live in underground nests and build tunnels to travel back and forth between their nest and their food source. They don't come out into the open, so you may only see signs of the damage they've created. Termite damage can result in doors and windows that stick, uneven floors, or bulging walls and ceilings.

You can try to avoid a termite infestation by making sure that your home is less attractive to these insects. Softer wood is easier for them to eat, so check your home for water damage and repair wet or damaged wood immediately. You can use a dehumidifier to lower the moisture levels in your home as well. Also, you can reduce the chance of termites getting in by putting a barrier between your home and the soil where termites might make their nest.

Ultimately, the best termite protection is professional care. We offer termite monitoring as part of our PestGuard treatment or as a stand-alone service. If we detect termites on your property, we'll use the Advance® Termite Bait System to draw them away from your home and eliminate them. We may also use a liquid termiticide to make sure that we target the entire termite colony. Termite damage can be irreparable, but it's not too late. Let us protect your Burlington home from termites.

Pests are a necessary evil when it comes to living in such a beautiful location surrounded by nature. However, bugs don't need to be inside your home or breeding in your lawn. Let American Pest Solutions take care of your home and begin long-lasting treatments that will protect you, your family, and your house from the many pests in Burlington, CT.