Palmer, MA Pest Control
Palmer is a quaint, small city that is located in Massachusetts. While an amazing home for people, Palmer offers quite an abundance of good living areas for insects, rodents, and other pests. To help protect your home and business from the pests that also chose to live in Palmer, partner with the local pest experts at American Pest Solutions. Since 1913 we have been protecting people, properties, and pets from mice, ants, spiders, beetles, termites, pantry pests, stinging insects and more. We take pride in providing our customers with the most advanced, eco-friendly pest control services possible, and peace of mind knowing that their pest problems will soon be completely solved. To find an affordable and effective solution to your residential or commercial pest problem, contact American Pest Solutions today!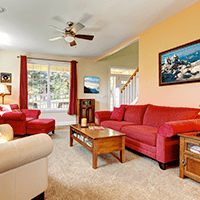 Residential Pest Control In Palmer, MA
To protect your home from being invaded and damaged by the wide variety of pests that live in and around Palmer, put your trust in the experts at American Pest Solutions. We have many decades of experience in protecting Massachusetts homes from the many dangers and damages that pests can inflict:
Structural damages- wires, pipes, drywall, insulation, vents, flooring

Destruction of personal items- clothing, upholstery, furniture, books, and pictures

The introduction of bacteria, viruses, human pathogens, and parasites

The contamination of food, food prep areas, utensils, and dishes
To protect your Palmer home and belongings from being damaged by pests, put into place a year-round pest control program. Our Pest Guard program includes an initial service visit that is followed-up by a minimum of 4 visits throughout the next 12 months. At each visit, you will receive an evaluation of your home and treatment of existing pest problems. This program also includes termite coverage that monitors your home for termite activity from April thru October and a 24-hour answering service. Give us a call to learn more about the benefits of choosing American Pest Solutions to handle your Palmer home's pest control needs!
Carpet Beetle Prevention Tips For Palmer, MA Residents
Carpet beetles are a destructive pest that should never be allowed to make themselves at home inside of your Palmer home. Carpet beetle larvae feed on and damage items made from natural fabrics (wood, leather, cotton, and furs); as well as causing to damage clothing, carpets, blankets, and upholstered furniture. To keep these damaging pests out of your home we suggest dusting and vacuuming your home on a regular basis, sealing cracks and crevices found in the foundation and exterior walls, caulking spaces found around exterior windows and doors, thoroughly cleaning items made of natural fibers before storing them away, and storing wool items or clothing in plastic or pest-proof containers. To keep carpet beetles out of your home it is also a good idea to partner with American Pest Solutions and put into place a year-round pest control program. Our year-round pest control services will eliminate any carpet beetles that are currently living in your Palmer home and prevent them from returning to damage your personal belongings in the future!
Commercial Pest Control Solutions In Palmer, MA
Pests like bed bugs, roaches, termites, wildlife, and pest birds, are a constant threat to the success of any business. To keep pests out of your Palmer business and to keep the good reputation of your business intact, put into place a commercial pest control program from the experts at American Pest Solutions. Our friendly and highly-trained experts can provide you with the long-term services and support needed to maintain a pest-free environment within your Palmer commercial facility. Some of the many benefits of choosing American Pest Solutions to take care of your Palmer commercial pest control needs include:
Our fully licensed technicians are continually being field trained by our staff entomologists to ensure that they are always up-to-date on the latest technologies and treatments.

We offer specialized, targeted pest control services for a variety of pests including bed bugs, pest birds, rodents, termites, ants, roaches, and wildlife.

Our Transparent Accountability- a trademarked program exclusive to us. The program provides secure online access to pay invoices, view and update account information, view and print statements, schedule service, view billing and service history, and detailed device inspection with barcode reporting.

Twenty-four-hour service to all of our commercial customers.

We have more than 100 years of experience providing commercial pest control services.
To learn more about protecting your Palmer commercial property and your business' reputation from pests, give the Massachusetts commercial pest control experts at American Pest Solutions a call today!
How To Avoid Termite Damage In Palmer, MA
What are rarely ever seen by people, work non-stop all year-long, have razor sharp jaws, and are responsible for causing billions of dollars' worth of damages all across the United States each year? The answer is the termite! That's right, despite their small size, termites and their voracious appetites can cause huge amounts of structural damage inside of any Palmer home or business. To protect your Palmer property from being invaded and damaged by termites, trust American Pest Solutions and our highly effective termite control options.
Our first termite control option is the Advance® Termite Bait System, this system works to control termites through the use of bait stations that are placed around your property. Foraging termites are highly attracted to the bait and will quickly enter into the bait stations and ingest the bait. The foraging termites then return to the colony exposing the rest of the colony to the bait; the bait acts as a growth inhibitor and works to quickly eliminate the entire invading colony, including the queen. The Advance® Termite Bait System then remains in place where it is routinely monitored by our professionals to help prevent future infestations.
Our second termite control option is our conventional treatment option and uses liquid termiticides. An EPA-registered material is applied underneath of the ground around your home's foundation. The foraging termites will pass through the treated soil to make their way into your home, when they return back to the colony they bring the treated soil with them causing the fast and complete elimination of the entire colony (usually within 15-45 day).
To schedule a termite inspection or to learn more about our highly effective termite treatment solutions, give us a call today at American Pest Solutions.