North Adams, MA Pest Control
If you are looking for a city to call home that is rich in natural beauty, culture, outdoor recreational opportunities and provides its residents with diverse neighborhoods and economic opportunities, then North Adams, Massachusetts is the place for you! To help keep the lucky residents of North Adams from coming into contact with the many insects and other pests that unfortunately also call North Adams home, the local pest professionals at American Pest Solutions offer exceptional and affordable pest control services. Whether you are a homeowner or a business owner, we can provide the customized services needed to keep pests away. Find out today why your neighbors have been trusting American Pest Solutions with their pest control needs for over 100 years!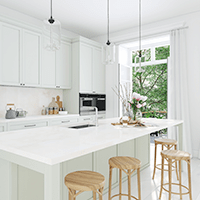 Residential Pest Control In North Adams, MA
At American Pest Solutions, we have developed our Pest Guard Plan to provide our valued customers with the year-round protection needed to maintain a pest-free household. Our Pest Guard Plan includes an initial inspection of your home and property, the treatment of existing pest infestations, a minimum of 4 follow-ups visits scheduled through a 12 month service period, and access to our 24-hour answering service. The Pest Guard Plan also provides termite coverage which means that our professionals will install in-ground termite monitoring stations and monitor your property for termite activity on a regular basis from April through October. If termites are ever discovered during the monitoring process, we will switch over to an active baiting program and install additional stations around your property, if needed. Don't let common household pests take advantage of your home and family ever again, contact American Pest Solutions today to implement an effective and affordable long-term solution against pests!
Mosquito Prevention Tips For North Adams, MA Residents
Mosquitoes are both pesky and dangerous. They swarm in large numbers, bite us, leave behind itchy red welts, and, unfortunately, have the potential to infect both people and our pets with some pretty serious diseases. To help prevent large numbers of mosquitoes from being attracted to your North Adams property, we would like to offer you the following prevention tips:
Remove areas of standing water from your property. Clogged gutters, wading pools, trash can lids, tarps, tires, buckets, and more can collect water and attract breeding mosquitoes to your property.
Keep mosquitoes out of your home by making sure that door and window screens are in place and are completely intact.
Keep your property's grass mowed short to prevent mosquitoes from hiding out in the tall grasses.
Both female and male mosquitoes feed on plant nectar as their main food source; to help deter mosquitoes, reduce the amount of flowering vegetation that you have planted on your property, especially any that is planted close to your home or outdoor sitting areas.
Partner with American Pest Solutions and put our Mosquito Guard program into place to receive season-long protection against mosquitoes.
Don't wait another day to protect your family from mosquitoes, get in touch with American Pest Solutions today!
Commercial Pest Control For North Adams, MA BusinessesA
Protect your North Adams business from the many pests that could potentially invade while searching for food, water, and shelter. Pests living inside your commercial facility is more than just a nuisance; they are a danger to you, your customers, your employees, and your business's reputation! To combat the constant threat of pests and keep them away from your business in the long-term, turn to the experts at American Pest Solutions. We will provide you with the quick response and effective control methods required to eliminate pests from your facility and the continuous, trustworthy services needed to keep them from returning. Trust our local pest control company and our highly-trained and educated professionals to provide you with modern, effective, eco-friendly commercial pest control services needed to protect your business, customers, and employees from pests. In addition to our general pest control services, we also offer target solutions to eliminate specific pests from your facility; these services include: bed bug control, rodent control, termite control, ant control, pest bird control, and wildlife control.
Learn How To Identify Bed Bug Infestations In North Adams, MA
Bed bugs are a serious problem that require a serious solution; in order to eliminate a bed bug infestation as quickly as possible, it is important to understand what the signs of an infestation may be so that you can identify these pests living inside of your home as soon as possible. Identifying a bed bug infestation can be tricky but there are some signs that they leave behind that tell of their presence inside of a home; these signs include:
Finding blood spots on linens, pillowcases, walls, or floors.
Finding dark streaks or their excrement on mattresses, box springs, or linens.
Finding apple seed-shaped bugs hiding in the cracks of mattresses, box springs, upholstered furniture, walls, or wooden furniture. They can also be found hiding in keyboards, electronic devices, and underneath piles of dirty laundry.
You or family members waking up with unexplained mosquito-like bug bites.
If you ever think you have discovered signs of bed bugs living inside of your North Adams home, don't hesitate to get professional help; contact American Pest Solutions immediately to provide a thorough inspection and, if necessary, the effective treatment services needed to completely eliminate them from your home. Give us a call to learn more about our quality bed bug control services.