Plainville, Connecticut Pest Control
Nestled in Hartford County and home to a diverse number of businesses, Plainville has a small-town feel and a strong community focus. Whether you're here for business or call Plainville home, know that American Pest Solutions can be your go-to professionals when it comes to pest control.

It's important to find pest control professionals you trust, and who can come at a moment's notice to keep your family and your home safe. While we love to enjoy all that Connecticut has to offer, the many parks also mean an increased pest presence. Let us step in and keep your home protected from the outdoor pests so you can go back to swim lessons, yoga in the park, outdoor concerts, and the many other activities available in Plainville.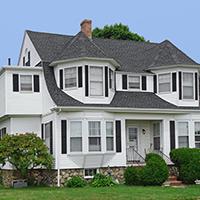 Home Pest Control In Plainville, CT
We believe that ignoring a pest problem is never a good idea. The longer pests go untreated or are only partially eliminated, the worse the problem becomes. To avoid contracting diseases or suffering damage to your property, we suggest year-round pest control. Our integrated protection plan is called PestGuard, and it can prepare you to take a stand against many common household pests.

Here at American Pest Solutions, we designed PestGuard with help from our board-certified entomologist. It's a program that begins with a thorough inspection and targets both interior and exterior protection. We help you make changes to the inside of your house to dissuade pests from camping out. We also help you seal holes and cracks on the exterior, which may be providing pests a passageway inside.

Our PestGuard program covers most of the basic pests that homeowners in Plainville might encounter and includes termite monitoring and protection. We specialize in bed bugs, rodents, birds, and termites, but we have experience with plenty of other pests as well. No matter what pest you're worried about, we can help.
Commercial Pest Control In Plainville, CT
Plainville is home to many industries, and American Pest Solutions is happy to help them all. We serve medical facilities, restaurants, warehouses, stores, schools, and more. Pests can be dangerous to your employees, customers, and your facility. Before your pest problem gets out of hand, let us come by for quick treatment with long-term results.

We pride ourselves on our quick response and offer 24-hour service to our commercial customers. We know that pests can quickly damage your business, so we provide quick solutions. We specialize in bed bugs, birds, rodents, termites, ants, roaches, and wildlife, but our list of the pests we cover doesn't end there.

We have an entomologist on our team, which means we can create innovative solutions for almost any pest problem. Plus, you can set up an appointment to have our entomologist visit your business so you can be sure you're getting an expert opinion.

American Pest Solutions also offers a unique online platform called Transparent Accountability. This service allows you to view and pay invoices, schedule services, see your service history, and more. After all, this is your company, so we want you to be part of the solution.
Guide To Avoiding Ticks In Plainville, CT
Ticks, small bugs that feed on blood from mammals, birds, and even reptiles, can be a big problem in Connecticut. These pests carry several diseases, the most notable of which is Lyme disease. A tick bite can result in fevers, rashes, muscle aches, and other symptoms.

Although you can find ticks wherever there is dense foliage, you'll be able to avoid a bite if you take some time to protect your home from these parasites. We've gathered some tips for keeping ticks off your lawn and out of your home as well as avoiding them when you're spending time in one of Plainville's many parks and hiking trails.
Cover up! When spending time outside, especially in wooded areas, wear long pants and sleeves to limit the amount of exposed skin. Ticks often jump onto your feet and ankles and crawl up your pants. By wearing long pants and light colors, you may be able to spot them before they bite.

Treat your pets. Work with your veterinarian to find a tick prevention method for your pet, such as drops, pills, or collars. If ticks get onto your pets, they will carry them into your home, where they may then bite you or a member of your family.

Landscaping! In order to prevent ticks from hiding out in your yard, you need to limit the hiding places available to them. Keep your grass short, and the vegetation in your yard trimmed back. You can also keep ticks away by keeping wildlife out since deer, squirrels, raccoons, and other wildlife often carry ticks.

Ask American Pest Solutions for help. The last and best way to protect your home from ticks is to enlist professional help. We can spray areas of dense vegetation and tall grass to eliminate ticks and decrease the chances of an encounter. Plus, our Mosquito Guard protection plan guards against ticks, fleas, and mosquitoes, so you'll be extra protected.
We offer our Mosquito Guard tick, flea, and mosquito plan as a one-time treatment, or you can add it to your ongoing PestGuard pest control plan. Don't let ticks get the best of you this summer!
Do You Know How To Spot Termite Damage In Plainville, CT?
When it comes to pests, one of the most expensive pest infestations you can have is termites. Termites cost billions of dollars in repairs in the U.S. every year. The damage done to just a single home can cost thousands of dollars. So what does termite damage look like, and how can you spot it? At American Pest Solutions, we're experts in dealing with termites. Call us for inspection, treatment, and prevention before you suffer the damage.

Here in Connecticut, you're almost certainly dealing with subterranean termites. They live underground and spend their days inside your walls getting cellulose from the wooden structures of your building. You probably will never see a worker termite. You may, however, see swarmers, or winged termites. They come out in the spring to mate and start new colonies. You may either see flying termites or just the shed wings they leave behind.

Unfortunately, the first sign of termites that you may see is the damage they create. Because termites damage the structure of your home, you may notice that the walls seem to be bowing, the ceiling drooping, or the floor bulging. You may also notice that doors and windows are sticking and are difficult to open or close. If you observe any of these signs, call American Pest Solutions right away so we can stop termites, before it's too late.

We use termite monitoring to prevent a termite infestation and the Advance® Termite Bait System to eliminate termite colonies. We may also use a liquid termiticide treatment, which is slow acting, thereby eradicating an entire colony instead of just targeting worker ants. Our treatment is fast and effective so that you won't spend thousands in termite damage repairs.

It doesn't matter if your pest problem feels like an impossible fight, or if you just need a better preventative strategy, American Pest Solution has been helping Plainville residents and businesses for years, and we'd love to help you. Call now, and we may be able to offer you a free evaluation or inspection.