Amherst, MA Pest Control
Amherst is a town located in Western Massachusetts and is known for being a progressive, professional city. The town is home to many elite colleges including Amherst College and is a diverse community that offers various cultural experiences to its residents. To help protect the people who call Amherst home and the property, both historic and new, that is found in Amherst, the pest control professionals at American Pest Solutions provide modern, industry leading, and affordable pest control services. We are a local company that gets involved with the communities we serve and who has a deep understanding of the local pest pressures that Amherst residents face. Find out today why people have been trusting American Pest Solutions for over 100 years to take care of their pest control needs.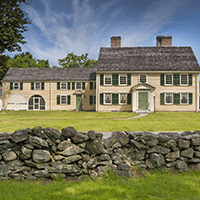 Residential Pest Control In Amherst, MA
At American Pest Solutions we have developed an effective way to protect your Amherst home from pests all year-long. By implementing our Pest Guard home pest control program you can rest assure that an unexpected pest problem won't pop-up in your home ever again. The Pest Guard program includes a minimum of 4 visits during a 12 month service period, it includes an evaluation of your home, followed by treatment for existing pest problems. Other benefits to our year-round home pest control program include:
Termite coverage that monitors your home for termite activity from April thru October

A 24-hour answering service

The peace of mind of having complete year-round protection against common household pests
In addition to our comprehensive Pest Guard program, we offer targeted solutions to eliminate and control specific pests, these services include rodent control and exclusion, bird control, and wildlife control. Contact us today to learn more about any of our home pest control programs!
Tips To Avoid Bed Bugs In Amherst, MA
The best way to avoid bed bugs is to know what they look like and what the signs of their presence are. By knowing these two key details you can remain consistently vigilant against these pests and help prevent introducing them into your Amherst property. Adult bed bugs are the stage that are most easily recognized by people; they grow to about 1/4 of an inch in length, they have six legs, have an oval, flat shaped body, and are a reddish-brown color. Common signs of bed bugs include waking to find small red welts that are located in a linear pattern on you or family members; noticing rust, red, or black colored flecks or dots of blood or excrement on bedding, mattresses or box springs; or finding dead or alive bed bugs in the seams of the mattresses or box springs.
The most efficient way to avoid a bed bug infestation in your Amherst home or business is to schedule routine K-9 bed bug inspections from the bed bug professionals at American Pest Solutions. Our K-9 inspections are fast, non-invasive, and extremely accurate. After the inspection, if bed bugs are ever discovered, our professionals will develop a plan based on the specifics of the infestation and eliminate the bed bugs from your property as quickly as possible. Contact us today to schedule a K-9 bed bug inspection for your Amherst home or business!
Protect Your Amherst, MA Business From Pests
Help to protect your Amherst business from being damaged by common commercial pests, by putting into place a commercial pest control service from the professionals at American Pest Solutions. At American Pest Solutions we specialize in protecting Massachusetts businesses from the following dangerous and damaging pests: bed bugs, pest birds, rodents, termites, ants, roaches, and wildlife.
Our commercial pest control services include the benefits of:
Efficient, environmentally friendly pest control solutions that will eliminate and control pests in and around your commercial facility

Prompt twenty-four hour service to all of our commercial customers

Fully licensed, educated technicians that are continually field trained by our staff entomologists

Transparent Accountability - a trademarked program exclusive to us. It allows our customers secure online access to pay invoices, view and update account information, view and print statements, schedule service, view billing and service history, and detailed device inspection with bar coded reporting
Contact us today to get started protecting your Amherst business from pests by the pest control experts who have over 100 years of experience!
Best Way To Protect Yourself From Mosquitoes In Amherst, MA
The best way to reduce mosquito populations on your Amherst property and protect yourself, your kids, and your pets from being constantly bitten, is to put into place a professional mosquito remediation program. Unfortunately, there is no way to completely eliminate these pests, but through our highly effective services their numbers can be greatly reduced, and you can be protected from these biting pests that can spread serious diseases including the West Nile Virus. Our Mosquito Guard program provides you with relief from mosquitoes throughout their entire active season (May-October). Our specialists will visit your property every 3-4 weeks treating the specific areas of your property where mosquitoes are found resting and breeding. The Mosquito Guard program can be completed as a stand-alone service, it can be added to our year-round home pest control program, or it can be a one-time service as a way to reduce mosquito numbers on your property for a big party or event!