Otis, MA Pest Control
Otis, Massachusetts is a small, close-knit community that is chock full of natural beauty, gorgeous architecture, and friendly people. To help protect the families, homes, and businesses located in Otis from many pests such as insects and rodents that also call Berkshire County home, turn to the local experts at American Pest Solutions. We are a family-owned and operated company that offers the comprehensive services needed to protect residential and commercial properties from the dangers and damage pests can inflict. For over 100 years, we have been protecting people and properties in Western Massachusetts from a wide variety of pests including ants, rodents, ticks, spiders, mosquitoes, termites, and bed bugs. To learn more about our residential or commercial pest control services, give American Pest Solutions a call today!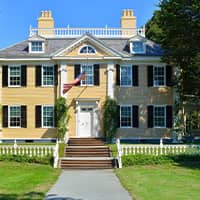 Residential Pest Control Services In Otis, MA
The truth of the matter is pests such as insects and rodents are hard to deal with! But common household pests are more than just annoying, they have the potential to cause some serious problems for you and your family.
They cause stress and sleepless nights.

They contaminate food and the surfaces of your home with saliva, urine, and excrement.

Pests introduce disease, bacteria, and parasites into your home.

They can cause structural damage to your home.

Their damage can lead to fires and moisture problems.
To protect your Otis home from household pests, implement our preventative, year-round Pest Guard program into your home. Our effective and affordable Pest Guard program, developed by our staff entomologists, quickly eliminates current pest problems and prevents future pest problems. To learn more, reach out to American Pest Solutions today.
Mini Guide To Avoiding Mosquitoes In Otis, MA
Mosquitoes are dangerous pests and your contact with them should be limited as much as possible. These fly-like insects feed on the blood of people and animals allowing them to easily spread a number of serious and dangerous diseases. Mosquitoes live and breed outside and can become an issue on any property. To help limit the number of mosquitoes living and breeding on your Otis property we have put together some easy-to-execute mosquito prevention tips.
Eliminate standing water in low spots, ditches, gutters, and similar areas.

Store containers that can collect water (buckets, flower pots, pet bowls, baby pools, wheelbarrows, and similar items) upside down when not in use.

Eliminate hiding and resting spots by keeping your lawn cut short, removing overgrown areas of vegetation, and pruning back large overgrown trees.

Place outdoor fans in outdoor sitting areas; mosquitoes are weak fliers.

Put into place a professional mosquito reduction program.
Our Mosquito Guard program offers homeowners season-long (April-October) protection against these biting pests. The Mosquito Guard program can be completed as a stand-alone service or added to our Pest Guard home pest control program! Give American Pest Solutions a call today to learn more or to request a free evaluation!
Commercial Pest Control In Otis, MA
The commercial pest control experts at American Pest Solutions have the ability to protect a wide range of businesses from pests. Our professionals work diligently with you to keep insects, rodents, and wildlife out of your commercial facility and away from your inventory, customers, and employees. Our prompt, 24-hour, environmentally friendly commercial pest control services provide exceptional protection for your business against the threat of pest invasions. Protect your Otis business from pests by calling today and partnering with the experienced and dedicated professionals at American Pest Solutions.
Protect Your Otis, MA Property From Termite Damage
The best way to protect your Otis property from termite damage is with the help of a professional. Termites are known as "silent destroyers" because they enter into homes without any fanfare and can work for months or even years without being noticed. Protect the structure of your home and your bank account from destructive termites with the help of American Pest Solutions.
American Pest Solutions offers two different termite control options for homeowners to choose from. Each uses termite's natural habits against them to completely eliminate the infestation. Our Advance® Termite Bait System controls termites through bait stations that are placed around your property. We also offer a liquid termiticide treatment option. The termiticide is applied under the ground around your home's foundation. To learn more about our effective termite treatment options, give American Pest Solutions a call today!