Sheffield, MA Pest Control
Sheffield, a small New England town located in beautiful Berkshire County, Massachusetts offers a close-knit community and plentiful amenities that allow its residents to thrive. Protect your home and family from the many pests that also live in this area of Berkshire County with the help of the Massachusetts pest control experts at American Pest Solutions. American Pest Solutions is a locally owned and operated business. Our professionals have the experience needed to handle the area's common pest problems, keeping homes, businesses, and families protected from pests. To learn more about defending your Sheffield home or business from pests, get in touch with us today.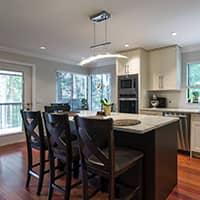 Residential Pest Control In Sheffield, MA
At American Pest Solutions, we have the services, experience, and training needed to completely solve the toughest of household pest infestations. By partnering with us you will have the peace of mind to know that you won't hear the pitter patter of mouse feet behind your home's walls, find a line of ants crossing your kitchen counters, be startled by a spider in the shower, or find hordes of ladybugs on your window sills ever again. By implementing our preventative, year-round Pest Guard program into your home, it will become, and stay, free of common household pests. Our effective and affordable Pest Guard program, developed by our staff entomologists, includes:
An initial visit that is followed by a minimum of 4 visits throughout the next 12 months.

An evaluation of your home and treatment of existing pest problems at each visit.

Termite coverage that monitors your home for termite activity from April thru October.

The convenience of a 24-hour answering service.
Reach out to us today to learn more about American Pest Solutions and our quality residential pest control solutions. One of our friendly experts will be happy to assist you.
Guide To Rodent Control In Sheffield, MA
Rodents are difficult to keep out of homes. Once they do find their way inside, they are even more difficult to remove. But taking steps to keep rodents away from your Sheffield property and out of your home (and away from your family) is very important. Did you know that rats and mice are responsible for carrying and spreading more than 35 diseases? The diseases rodents carry can be spread directly, through contact with rodent feces, urine, or saliva, or by parasites found on rodents such as fleas and ticks. Protecting your home and family from rodents begins with making your yard as unappealing to them as possible. Remove any bird or wildlife feeders from your property; remove piles of leaves, grass, or other debris that they can hide within. Thin out any dense or overgrown vegetation on your property. Make sure all outdoor trash cans have locking lids. Place woodpiles, gardens and compost piles away from your home and make sure to pick up uneaten pet food between feedings.

To keep rodents from finding their way into your home, the following steps can be implemented:
Seal holes found in the foundation, exterior walls, or roofline.

Seal openings around ducts, pipes, wires, windows, and doors that lead into your home.

Exterior doors, especially basement doors, should have door sweeps installed on them.

Make sure that all chimneys have properly fitting caps, and place tight-fitting mesh covers over all vents entering into your home.

Trim back tree limbs and overgrown bushes and shrubs from your home that rodents could use to gain easy access into your home.

Put into place a professional rodent control service.
At American Pest Solutions, we offer comprehensive rodent removal and structural repair services to eliminate rodents from properties. These services include a full inspection, the sealing off of pest entry points, and the complete elimination of the infestation from your home. Give us a call today to learn more about keeping rodents out of your Sheffield home once and for all.
Commercial Pest Control In Sheffield, MA
Ants, spiders, roaches, mice, and other pests are just waiting for opportunities to make their way into your Sheffield business, to take advantage of food, water, and shelter. To stop these potentially dangerous, damaging, and disease-spreading pests, call American Pest Solutions today. Our commercial pest control services provide industry-leading services to protect your facility from a wide range of pests. Our commercial pest control options provide services needed to not only eliminate current pest problems, but to prevent their return as well. As an added bonus, we offer our exclusive Transparent Accountability program. This program allows our customers to easily secure online access to pay invoices, view and update account information, view and print statements, schedule service, and view billing and service history, in addition to detailed device inspection with barcode reporting. Protect your business, its reputation, your employees, and your customers with the help of American Pest Solutions. Reach out to us today.
Protect Your Sheffield, MA From Termite Damage
There are some things you can do around your home on your own. Touch up the paint on the baseboards, replace the burnt-out light in the laundry room, or fix the drippy kitchen faucet... However, there are other things that should be left up to the experts; cleaning out the chimney, repairing the furnace, or fixing electrical issues. Something else you should add to the list of things only a professional should handle is pest control, specifically termite control. Termites are highly invasive, extremely damaging, and impossible to eliminate completely without the assistance of a professional. At American Pest Solutions, we offer two different termite control options. Each uses the termite's own natural habits against them to completely eliminate them from homes and properties.
Advance® Termite Bait System: This system works to control termites with bait stations that are placed around your property. The bait acts as a growth inhibitor to quickly eliminate the entire invading colony. The bait stations remain in place where they are routinely monitored by our professionals to help prevent future infestations.

Liquid Termicide Treatment: A liquid termiticide is applied under the ground around your home's foundation. Termites pass through the treated soil to make their way into your home, but when they return back to the colony, they bring the treated soil with them, completely eliminating the colony.
To learn which highly effective termite control option is the best fit for your Sheffield property, contact the Massachusetts termite control experts at American Pest Solutions today.