Burgers, Hot Dogs, Mosquito Control?
August 11, 2016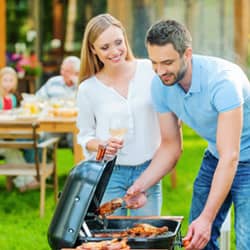 In: Mosquitoes | Residential Pest Control
Although it is almost time to head back to school and people are gearing for the fall season that is coming right around the corner, the truth of the matter is that there is plenty of summer left to enjoy! Plenty of summer weekends remaining to plan a fun get together at your Hartford, Connecticut, home to enjoy with your family and friends. Along with making sure to purchase plenty of hotdogs, plates, napkins, and drinks for your summer BBQ, have you thought of another necessity-
mosquito control
! That's right! Those pesky
mosquitoes
are still buzzing around threatening to ruin your next outdoor get-together.
The professionals at American Pest Solutions want to help you limit the number of mosquitoes found living and breeding on your Hartford property. We can help you to make sure that the guests at your next party only leave with a full belly and happy heart, not with arms and legs full of red, raised, itchy bites from a mosquito attack!
Along with limiting mosquito bites for your guests, professional mosquito control services also help to limit exposure to mosquito borne-illnesses. Mosquitoes are not just an annoying pest, they are also a dangerous pest due to the diseases that they can carry and spread to people! Mosquitoes in our area are known to spread serious diseases like the West Nile virus and Eastern Equine Encephalitis. Also, as most everyone is very well aware, mosquitoes spread the Zika virus; and while it is important to be aware of the Zika virus, fortunately right now it is not being spread by mosquitoes in our area.
In addition to doing things on your own to limit mosquito numbers on your property like reducing areas of standing water, reducing flowering vegetation on your property, and making sure that the lawn is mowed short, getting help from a Hartford mosquito control expert is the best control option for mosquitoes. At American Pest Solutions we can help to limit mosquito numbers on your property through our Mosquito Guard program. Our mosquito professionals will inspect your property, find where the mosquitoes are living, and treat those areas for a very safe and effective way to control mosquito numbers on your Hartford Property.
The Mosquito Guard Program runs from May through October and provides our customers with routine visits every 3-4 weeks to control mosquitoes all season long, or it can be used as a single service to help control mosquito numbers before an outdoor event being held on your property!
Contact
American Pest Solutions today and speak to one of our professionals about how our Hartford mosquito control services can help to make your next summer outdoor party more enjoyable for everyone, after all we do not have many left!