'Tis The Season For Preventing Bed Bugs
December 8, 2016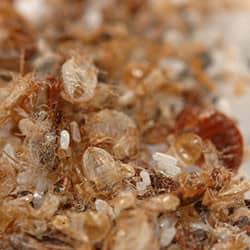 In: Bed Bugs | Biting Insects
With all of the travel and the increased number of guests during the holiday season, taking steps to prevent bed bugs in your home should be part of the routine. No one wants the added stress during the holidays that comes from thinking about the possibility of bed bugs being brought into your home by visitors, or from you and your family returning after visiting a home or hotel that has bed bugs. Following these simple steps to reduce your risk of experiencing a bed bug infestation can prevent that nightmare from becoming a reality.
Holiday Parties and Bed Bugs
Are you planning a holiday party? Think about where you normally store your guest's coats and purses – do you put them on your beds? If there are bed bugs on the coats or purses, they could very easily get into your bed. Instead of putting everything on your bed, clean out an entry way closet if you have one, or hang them in the bathroom on the shower rod, or find a place to store them in the laundry room. After everyone leaves, grab a vacuum and clean out the closet or storage space thoroughly to capture any bed bugs that may be in the room.
If you absolutely must store guest coats and purses on a bed, cover it first with a sheet. As soon as guests leave, place the sheet in the dryer on high heat and vacuum on and around the bed thoroughly.
Bed Bugs and Traveling
If you're staying with friends or in a hotel and you are concerned about the possibility of bed bugs, you can reduce your risk of bringing them home with you by keeping your suitcase, clothing, and other personal items away from the bed and place your suitcases inside garbage bags. On the way back home, keep your clothing in sealed plastic bags until you are able to launder your clothing.
Dealing with Bed Bugs
If, despite taking these prevention measures, you are the unfortunate victim of a bed bug infestation, you will need to call on the professional bed bug control services from American Pest Solutions. We have K-9 inspections to identify the scope of a bed bug infestation which is the most effective method of finding bed bug adults, larvae, and eggs. Serving Springfield and Western Massachusetts as well as Hartford County, Connecticut, our bed bug dogs can find bed bugs in two to five minutes, making it one of the most efficient means of discovering an infestation, too.
If an infestation is identified, we offer bed bug control solutions designed to completely eliminate your infestation. We carefully apply product as needed and take steps to prevent the risk of having your bed bug infestation spread to other areas and rooms of your home. Contact American Pest Solutions and let us keep those bed bugs from biting this holiday season!