Hartford Homeowner's Guide To Summer Termite Infestations
April 4, 2019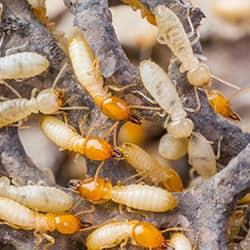 In: Termites

Why Are There More Termites in the Spring and Summer?
It's not difficult to see that termite season seems to be in late spring and summer, however, termites are actually a year-round pest that many Hartford homeowners must deal with throughout the entirety of the year. However, this does not negate the fact that there is indeed a large increase in termites and termite activity during spring and summer. The reason for this increase is because termites breed and reproduce during the warmer months, replacing some workers with winged reproductive members of their colony. These winged termites can sometimes be seen swarming as they search for a location nearby to settle down and start their own new satellite colony—hence the reason many people call these winged termites "swarmers."
Will I Know Right Away If I Have A Termite Infestation?
Unfortunately, termites are masters of deception, and many Hartford homeowners have had to pay hundreds or thousands of dollars to repair the damage termites inflicted on their properties without their knowledge. Termites target warm, moist, and hidden areas that do not get much light—making attics, wall voids, and areas deep within the structure of your home common places that a termite infestation is likely to be located. However, some termite infestations are able to go unnoticed for years and are able to continue damaging the structural integrity of a home. Many people only contact a professional after an extensive amount of damage has already been done. However, it is always important to enlist the help of a pest professional even if you are not sure if you have a termite infestation.
Why You Need Professional Termite Protection
Professional termite treatments are not just for people who have an existing termite infestation. While previously existing termite infestations are treated efficiently, it is always better to have a protection plan in place before termites have a chance to invade at all. Here at American Pest Solutions, we suggest getting pest control service before you start finding signs of termites in your home. Our trained pest experts have the experience needed to ensure the protection of your home with treatment options such as a termiticide barrier around the exterior of your home or the Sentricon® System with Always Active™ installed in termite-prone locations on your property. You never have to worry about termites ruining the structural integrity of your home when you partner with American Pest Solutions. Reach out to us today to learn more about how our treatment options work and how they can keep termites away all year long!
Subscribe to blog