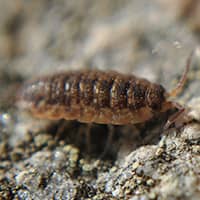 Sow Bugs
Sow bugs are not true insects, they are closely related to shrimp, crabs, and lobsters, and are a type of land-living crustacean. They are typically found living outdoors and are a type of occasional invader that can become a nuisance inside of homes and other buildings throughout Connecticut and Massachusetts.
Sow Bug Identification
Sow bugs are most commonly identified by their distinctive ability to roll themselves into a "c" shaped ball as a defense against perceived threats. Adults grow to about 1/2 of an inch in length, they have a segmented body that is similar in appearance to an armadillo's body, and they are dark gray in color. They have 7 pairs of legs and two hind appendages that give them the appearance of having an actual "tail".
Habits & Life Cycle Of Sow Bugs
The life cycle of a sow bug occurs through incomplete metamorphosis (egg, nymph, and adult); immature young look like smaller versions of the adults. Some species carry their eggs in pouches on their stomach, the eggs hatch and leave the mother giving the impression that she gave birth to live young.
Sow bugs cannot retain water in their bodies so they have to live in areas of high moisture for survival. They are scavengers and feed on a variety of decaying organic materials. During the day sow bugs hide in dark moist areas like under mulch, compost, landscaping ties; and in the cracks along the edges of sidewalks, driveways, and foundations; they emerge at night to look for food sources.
Sow Bug Damage
Sow bugs are not a damaging pest, they are a nuisance pest that invades homes and other buildings when the weather outside becomes too hot or dry. They enter into homes through cracks and spaces found in the foundation, exterior walls, or through spaces found underneath sliding glass doors. Once inside they can usually be found living in crawl spaces, laundry rooms, and basements.
Sow Bug Control
Sow bugs gather in large numbers and hide in the hard-to-reach areas of your home, because of this it is best to contact a professional pest control company to help eliminate and control these pests. The experts at American Pest Solutions have the knowledge, experience, and technology necessary to effectively eliminate your property's sow bug infestation.
Sow Bug Prevention
There are several things that you can do around your home and property to help prevent problems with sow bugs. Seal cracks and crevices found in your home's foundation, install door sweeps on all exterior doors, and caulk gaps found around exterior windows and doors. Outside remove piles of organic debris like grass and leaves from your property, leave a barrier between any mulch and your home's foundation, and make sure that gutters are working effectively to direct water away from the outside of your home. Inside your home, it is helpful to reduce humidity levels by placing dehumidifiers in areas like basements and laundry rooms or installing air-conditioners.