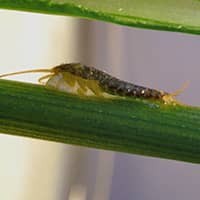 Silverfish
Silverfish are occasional invaders that often enter into homes and other buildings while searching for a suitable environment to live in and easy access to food sources. An interesting fact about silverfish is that they can live without food for up to a year, but have to live in a humid environment for survival.
Silverfish Identification
Silverfish have no wings, instead of flying they move very effectively from place to place in a fish-like manner; the way that they move and the silvery-gray scales that cover their body are what has given them their name. Adults can grow to 3/4 of an inch in length and their teardrop-shaped body is brown in color. They also have 3 very distinctive bristle-like appendages that protrude from the back of their body. Nymphs look like smaller versions of adults.
Habits & Life Cycle Of Silverfish
Adult females lay their eggs in the cracks and crevices of floors, walls, and other areas that are located near food sources. After the eggs hatch, the nymphs molt several times until they reach adulthood. Silverfish can have a very long lifespan - sometimes living between 6 and 8 years in the right conditions.
Silverfish are nocturnal creatures and they hide inside during the day in high humidity areas like basements, underneath sinks, in kitchens, bathrooms, in crawl spaces, and laundry rooms. In the night they emerge out of their hiding spot to feed on foods high in starch like paper, glue, wallpaper, fabrics, other dead insects, and food items like flour, oats, and cereals.
A silverfish infestation inside of a home generally occurs when silverfish are accidentally introduced inside of boxes, packages, piles of paper, or newspaper. They may also enter homes and other buildings through small cracks found in the foundation or underneath exterior doors as they search for food and shelter.
Silverfish Damage
When it comes to people, silverfish are considered to be a nuisance pest, they do not bite, sting, or cause any significant health concerns. However, when it comes to personal belongings they are considered dangerous, their feeding habits can cause damage to clothing, books, wallpaper, and other similar items.
Silverfish Control
Getting help from a professional pest control company is the most effective method of control for silverfish. The experts at American Pest Solutions have the knowledge, experience, and technology necessary to eliminate your silverfish infestation. We have residential pest control plans available to help you rid your home of these pests.
Silverfish Prevention
Preventing silverfish from choosing your home and property to invade can be a difficult task but there are several things that you can do to help prevent them. Seal cracks and crevices that are found in your property's foundation and install door sweeps underneath all exterior doors. Reduce humidity levels in your home by fixing leaky pipes and fixtures and by installing dehumidifiers where necessary. It is also important to inspect boxes and packages for silverfish before bringing them into your home. To prevent damage to personal items, store them in plastic containers with tight-fitting lids instead of cardboard boxes.
Helpful Silverfish Articles
Five No-Hassle Silverfish Control Tips For Western Massachusetts Homes
What Is The Easiest Way To Get Rid of Silverfish In Western Massachusetts?