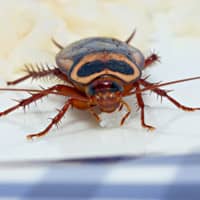 Roaches
German cockroaches are the most common species of roaches found in homes, apartments, restaurants, supermarkets, hospitals, and other buildings where food is stored, prepared, or served. They eat food of all kinds and may hitchhike into homes, schools, offices, and warehouses on egg cartons, soft drink or produce cartons, sacks of potatoes or onions, used furniture, beer cases, etc. These roaches will move from building to building during the warm summer months. They can develop into large populations and live throughout the home, especially in kitchens and bathrooms. Roaches can foul food, damage wallpaper, and books, eat glue from furniture and produce an unpleasant odor. Some people are allergic to roaches. Cockroaches can contaminate food with certain bacterial diseases that result in food poisoning, dysentery, or diarrhea. Cockroaches can cause childhood asthma so we always caution clients when children are in the areas of infestation.
Identifying German Cockroaches
If you are seeing small to medium size (1/8 to 5/8 inch) light brown cockroaches in your home or finding roach droppings (particles of black grit, an oily substance) around the kitchen or in and around cabinets, then you probably have a German cockroach infestation. This is one of the most difficult insect pests to exterminate from our homes. There are literally hundreds of different products on the market that promise to completely eradicate this pest, most of which have little long-term effect on a given population of German cockroaches over a several-month time span.
Life Cycle & Habits Of German Roaches
German cockroach females, unlike most other roaches, carry the egg capsule protruding from their abdomen until the eggs are ready to hatch. The case is then dropped in a secluded location, with the nymphs emerging within one day. A female may produce four to eight cases during her lifetime, each containing 30 to 48 eggs. Eggs hatch in about one month, and nymphs develop in 1 1/2 to 4 months. Female roaches live about 6 1/2 months and males live slightly less. The German cockroach produces more eggs and has more generations per year (three to four) than other cockroaches, and only a few individuals are needed to develop into troublesome infestations. This roach is spread by commerce and transportation as well as mass migrations. It is the most prevalent pest in low-income apartments in the United States.
During the day, these roaches may be found hiding, clustered behind baseboard molding, in cracks around cabinets, closets or pantries, and in and under stoves, refrigerators, and dishwashers. If clusters of roaches are seen during the day, the population is large. Both nymphs and adults (see picture above) are very active and capable of running rapidly. German cockroaches have a high need for moisture and usually travel 10 to 12 feet from their harborage for food and water in kitchens, bathrooms, utility rooms, etc., preferring darkness. Without food or water, adults may die in two weeks but can live a month with only water. Roaches don't seem to like bright lights, and very often we will spot them by using a powerful flashlight.
Cockroach Control
For the best results, you should consider a professional pest management firm with experience in this area. American Pest Solutions can usually resolve your cockroach problems quickly; however, a re-infestation is always possible. Once we have eliminated the current infestation, we usually suggest that the client take special precautions with regard to cleanliness in the areas where the infestation occurred. Sanitation is critical in roach control. Unclean living conditions from housekeeping neglect are usually the major contributing factor of cockroach outbreaks. Clean areas beneath cabinets, sinks, stoves, refrigerators, etc. as well as cupboards, pantry shelves, and food storage bins. Clean up spilled foods and liquids. Avoid leaving scraps of food on unwashed dishes and countertops overnight. Keep food in tightly sealed containers, rinse cans and bottles before putting in the trash, and transfer garbage outdoors into roach-proof receptacles away from the house. Leftover pet food should not remain in the feeding dish overnight.
Helpful Cockroach Articles
How Cockroaches Get Inside Massachusetts Homes And Businesses
Why You Should Call A Professional If You've Seen Roaches Inside Your Home
How Dangerous Are Cockroaches?
What Good Are Cockroaches In Springfield?
The Dangers That Come With Cockroaches In Your Western Massachusetts Property
How Do Cockroaches Get Into Hartford Homes?
What You Ought To Know About German Cockroaches In Western Massachusetts
How To Get Rid Of Roaches In Your Western Massachusetts Home
Why Cockroaches Are Hard To Get Rid Of On Your Own In Western Massachusetts
Why Springfield Residents Need Year-Round Pest Control
What To Do About Cockroaches I Find In My Western Massachusetts Home?
How To Keep Your Western Massachusetts Pantry Pest-Free All Year Long!
Is DIY Cockroach Control Hard To Execute In Western Massachusetts?