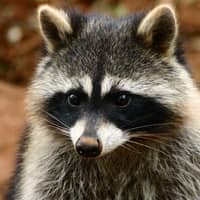 Raccoons
Wild animals are great to observe... In the wild, that is. As they get closer and closer to your home they are not so great. Raccoons, for example, are notorious for getting into trash and causing a huge mess around your home. You might even discover a raccoon and her babies in your attic! These furry little animals may seem cute at first with their grey and white hair, striped tail, and black mask around their eyes but when they invade your property it can be very irritating. You can find raccoons basically anywhere in the United States, they are, however, more common in the eastern wooded areas. You will rarely see a raccoon during the day because they are nocturnal animals.
Problems Caused By Raccoons
Raccoons live in dens. This is commonly in a wooded area with a water source nearby. They also move into attics, chimneys, barns, sheds, outbuildings, and abandoned buildings. Raccoons are capable of structural damage, they may also contaminate insulation and spaces with their feces and urine.
Health Risks Associated With Raccoons
Despite their almost harmless appearance, raccoons are wild animals and may become aggressive if cornered or threatened. They may also carry rabies. According to the CDC, the transmission of the rabies virus usually begins when the infected saliva of a host is passed to an uninfected animal. The most common mode of rabies virus transmission is through the bite and virus-containing saliva of an infected host. It is never safe to approach a raccoon and especially if they seem sick.
Signs Of A Raccoon Problem
To determine if you have a raccoon problem in or around your structure(s), there are three things to be on the lookout for:
Damage: They are known for getting into trash cans left outside overnight. You may put the trash out and wake up to trash all over your lawn. You may also find wiring, timbers, insulation, and other building materials as well as personal belongings damaged. Mayhem gives a great, if exaggerated, visual representation of what raccoons are capable of. Nope, we're not endorsing Allstate, we just like the commercial.

Noises: Because raccoons are nocturnal critters, you will likely hear noises coming from the attic at night. Outside, you may hear them raiding your trash and getting into other trouble.

Sighting: Of course, if you come face to face with a raccoon then you definitely have a problem.
Raccoon Prevention Tips
Here are a few tips that may help you keep raccoons away from your house and property:
All trash cans and outside recycling bins need to be sealed tight and brought inside if possible.

Don't leave pet food outside especially overnight.

All outbuildings like sheds and barns are locked up for the night hours.

Seal the exterior of your home to eliminate any access points inside.

Install a chimney cap.
How American Pest Solutions Can Help
American Pest Solutions is here to help you eliminate a raccoon infestation around your home. We will customize a plan to remove raccoons that have become a problem. Learn more about our wildlife removal services.
Helpful Raccoon Articles
The Raccoons In Western Massachusetts Can Be A Real Menace
Why Wildlife Infestations Should Be Handled By Professionals
Why Wildlife Problems In Springfield May Not Go Away On Their Own