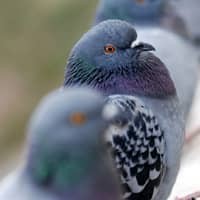 Pest Birds
Pest birds can be found flocking to both commercial buildings and homes alike. Pest birds are difficult to control and can cause a lot of damage to structures and health risks to people; because of this, it is important to get professional help for pest birds and remove them from your property as quickly as possible.
Pest Bird Identification
There are many species of pest birds, listed below are four of the more common species found in our area:
House Sparrows - The house sparrow grows to be about 6 ¼ inches in length from the tip of its bill to the top of its tail and they weigh about 1 ounce. Males and females differ in appearance, the topside of the males are chestnut brown in color, their underside a lighter grayish tan. The male's throat is black, along with their upper breast, their head is gray in color with whitish cheeks, and they have a single white wing bar. The female house sparrow is tan in color and they have dark reddish-brown wings. Their bill is yellowish in color and they have pale eyebrows.
Geese - The adult goose's appearance will differ depending on the specific species; Canadian geese weigh between 10 and 20 pounds and can grow to between 22-45 inches in length. They have a long black neck, a black head with a white patch on their face, and a white chin strap. The Canadian goose's breast is tan and its back is brown in color.
Pigeons - In general adult pigeons grow to between 11 and 12 ½ inches in length and weigh up to about 13 ounces. They have a light gray body, and darker colored head, shoulders, and breast. Pigeons also have 2 distinctive dark bars going across their wings, and another dark bar going across their tail. Their beak is a grayish-pink color.
Northern Flickers - Northern flickers are a species of woodpecker, they have blackish-brown scalloped plumage. When in flight you can see a flash of color under their wings and tail. They are commonly identified in the spring season by their ringing calls and short bursts of drumming.
Are Pest Birds Dangerous?
Yes, pest birds are dangerous to have living in or around your home or business. Pest birds can cause structural damages and their presence can cause serious health and safety issues for people. Pest bird droppings can carry many diseases and bacteria that can make people ill including salmonella, toxoplasmosis, and histoplasmosis. Histoplasmosis is caused by fungal spores found in their droppings that become airborne - this fungal disease mostly affects the lungs and can be life-threatening if not treated properly. Along with making people ill, their droppings build up and can lead to "slip and fall" accidents that can cause you, your family, customers, or employees to become seriously injured.
Pest Bird Damage
Pest birds can cause very costly structural damages to your property. Bird droppings are very acidic and over time will cause building materials to corrode. Pest birds have the ability to clog gutters, soffits, vents, and chimneys by building their nests in or on them. Woodpeckers can cause damage to wooden structures located on your home and property. Also, their feathers may get inside of heating and cooling units and other machinery causing them to fail.
Pest Bird Control
Getting help from a professional pest control company that has experience handling pest birds is the most effective method for getting rid of and deterring these pests from your property. The pest bird control experts at American Pest Solutions have the training, equipment, and technology necessary to humanely control pest birds on your residential or commercial property.
Pest Bird Prevention
Pest bird prevention is very difficult; the best solution to the problem is professional control from the experts at American Pest Solutions. However, there are a few things you can do around your property to help prevent and deter them.
Keep garbage in sealed containers so that pest birds cannot use the garbage as a food source.

Remove bird feeders from your property.

Make sure that gutters are maintained and working properly - directing water away from your property.

Fix leaky outdoor fixtures to help eliminate water sources found on your property.
Helpful Pest Bird Articles
How To Keep Pigeons Away From Your Hartford Property
Is Bird Control Necessary In Western Massachusetts?