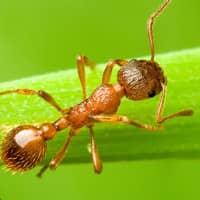 Pavement Ants
Pavement ants were introduced into the United States from Europe at some point during the 1700 and 1800s. They are slow-moving and can become problematic around structures built on concrete slabs. A pavement ant colony will have multiple queens and many workers. During the months of June or July the winged reproductive members of the colony swarm and mate. The female then locates a new nesting area to lay her eggs. She then starts a new colony and becomes its queen.
What Do Pavement Ants Look Like?
Pavement ants are black or brown in color. Adults grow to be about 1/8 of an inch in length and have an oval segment body. Their legs and antennae are lighter in color than their body.
Why Are They Called Pavement Ants?
They are referred to as pavement ants because of their preference to make their nests in or under cracks in the pavement.
Are Pavement Ants Dangerous?
No, pavement ants are not considered to be dangerous. They are a nuisance species of ant. Although, pavement ants can become quite problematic when they invade a home or patio area in large numbers.
Pavement ants do not bite but they can sting. They are, however, for the most part fairly docile and will rarely sting a person.
Why Are Pavement Ants In My Home?
Pavement ants enter homes through cracks and crevices found while foraging for food. Pavement ants feed on almost anything including:
Insects

Honeydew

Seeds

Honey

Bread

Meats

Nuts

Cheese
Pretty much any type of food found lying around. While pavement ants prefer to nest outdoors, they will sometimes nest indoors behind walls, under floors, and in insulation.
How Do I Treat Pavement Ants?
Trying to get rid of pavement ants on your own is not a good idea. The do-it-yourself treatment methods for ants are ineffective and can be dangerous to you, your family, pets, and plants if not mixed or placed properly. Also, DIY pest control never treats "why" and "how" ants are getting into your home, and without solving those questions you will quickly find yourself with a re-infestation. For help eliminating pavement ants and other household pests in your home contact the professionals at American Pest Solutions.
How Can I Prevent Pavement Ants From Coming Inside?
There are a few things that you can easily do to help prevent pavement ants from entering your home. Pavement ant prevention tips include:
Trimming trees and bushes away from the outside of your home because ants can use their branches to gain easy access into your home.

Sealing cracks and crevices found in your home's foundation. Caulking gaps found around windows and doors.

Making sure that outdoor trash cans have tight-fitting lids on them.

Not storing food out in the open on your kitchen counters.
Helpful Pavement Ant Articles
How & Why Ants Get Into Western Massachusetts Homes
How Ants Get Into Massachusetts and Connecticut Kitchens
Keeping Ants Out Of Your Hartford Home
Mistakes Homeowners Make to Invite Pavement Ants Inside
How Ant Infestations Start In Western Massachusetts Homes
Year-Round Ant Prevention for New England Residents
How To Keep Pavement Ants Off Your Western Massachusetts Driveway