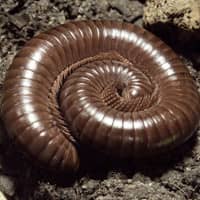 Millipedes
The millipede is a very common pest that is found throughout the entire United States. Their name means a thousand legs but in actuality, they have only about 60-90 legs. These insects are scavengers that feed on decaying plant matter but will also feed on dead insects, earthworms, and snails. They are mainly active at night. Millipedes are found living in areas where there are high levels of moisture and easy access to food sources; places like under mulch, leaf piles, and trash piles.
During the spring or fall months, millipedes will often migrate in large numbers and they often end up in homes. However, they will only survive a few days unless the moisture levels meet their needs and there is access to their food sources. Millipedes are harmless. They do not bite or sting humans but can become quite a nuisance within homes.
Millipede Identification
Millipedes have a similar shape to a worm; round and long. They are generally dark brown in color, although some can be red, orange, or patterned. Most body segments will have two pairs of legs; however, the first few segments and the last few segments will only have one pair. They will be tightly coiled if they are threatened or dead.
Life Cycle & Habits Of Millipedes
During the right conditions (warm weather) millipedes can breed year-round, however, throughout most of the country they breed mostly in the summer months. Adult females will lay their eggs in soil openings or in piles of decaying organic matter. After a few weeks, the hatchling emerges from the eggs and then will go through several molts (7-10) until they reach adulthood and sexual maturity. This can take anywhere from 2-5 years depending on the specific species.
How To Treat Millipedes
To get rid of millipedes we recommend contacting a pest control firm. Here at American Pest Solutions, we offer pest control services that target millipedes as well as other house infesting insects and rodents. Best of all, our experienced pest control specialists visit your home several times a year to make sure pests stay away.
Pest Prevention Tips
Prevent millipedes from entering your home by sealing cracks and crevices in your home's foundation, reducing moisture levels inside, and eliminating water sources (like clogged gutters and downspouts that don't drain away from the house). You should also remove or limit the amount of mulch on your property and do away with logs and even rocks.
Helpful Millipede Articles
What Every Springfield Resident Ought To Know About Millipedes