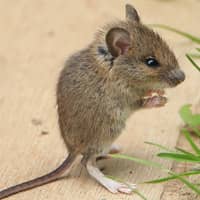 Mice
While we all love that wonderful cartoon character Mickey Mouse, the thought of having live mice inside your home or commercial building is not something anyone looks forward to. Mice are perceived as dirty little creatures and while they probably aren't any dirtier than those cute little chipmunks you see outside, they can carry disease. They may also cause all sorts of problems within the confines of four walls.
Problems Caused By Mice
One of the main problems faced by having a mouse in the house is the contamination of food with urine and feces. Mice also gnaw on wood, paper, cloth, and books causing damage to your structure and the contents. Mice also destroy insulation with nests and urine and feces. They may also damage electrical, T.V., and computer network wiring.
Signs Of A Mouse Problem
Observing gnaw marks is a definite clue that there is a problem. Gnawing leaves paired tooth marks about 1/8 inch wide.

Mice droppings are rod-shaped and resemble grains of rice. You often find droppings near nests and food sources. Many homeowners have found droppings in their pantries and also in kitchen drawers.

Mice also consume considerable quantities of stored seed and grains from farmers and granaries.
House Mouse Or Field Mouse?
If you've seen mice in your home or business, the quick way to identify whether it's a house mouse or a field mouse is the white underbelly of the field (deer) mouse. House mice have been living among humans in this country since the first explorers and pilgrims arrived. They usually never live outdoors. These mice are exceedingly prolific breeders; as many as 13 litters can be produced in one year. The number of young per litter averages about six. The gestation period is approximately 19 days, varying from 18 to 20. On the other hand, field mice spend at least half the year outdoors in their nests, and once the weather turns cooler, they will attempt to gain entry to a building for the warmth, shelter, protection, and food that can be realized inside. Mice are normally thought of as slow, but when they need to move fast, they have been clocked at up to 12 feet per second. Blink your eyes… 12 feet.
What About Hantavirus?
Hantaviruses are a family of several viruses found in rodents. These viruses have caused serious health problems in other parts of the world (mainly the Far East, Scandinavia, and Eastern Europe). The virus causing the recent U.S. cases is a Hantavirus strain that seems to be unique to North America. This new strain attacks the lungs and causes a disease called Adult Respiratory Distress Syndrome (ARDS). While it was originally thought to be localized to the Southwest corner of the country, there have been cases reported on the east coast as well as the northeast. Roughly 50% of all the 250+ reported cases in the USA were fatal. The virus is thought to be mainly carried by a common rodent, the field mouse AKA deer mouse. This mouse (Peromyscus maniculatus) is native to most of the United States including Massachusetts. Infected rodents shed live virus in saliva, feces, and urine. Humans are infected when they inhale dust that contains dried rodent urine or feces. Transmission may also occur when dried material contaminated by rodent feces are disturbed and directly introduced into broken skin or the eyes, nose, or mouth. Insect bites and household pets are not thought to play a role in hantavirus transmission. Squirrels, birds, hamsters, and rabbits are not known carriers of the hantavirus. There is no evidence of person-to-person transmission of the hantavirus. If you find areas where there are mice droppings, do not vacuum up the droppings. Instead, use rubber gloves, and use a dampened paper towel to pick up all the droppings. Then, you can spray the area with a mixture of bleach and water and wipe it down. Only then should you use a vacuum in that area.
How American Pest Solutions Can Help
If you've found mice in the house or are dealing with a rodent infestation in your business, American Pest Solutions can help. From rodent control to clean up and exclusion, we offer a comprehensive pest solution.
Serving Springfield and Hartford as well as elsewhere in Massachusetts and Connecticut. Contact us today to discuss your mouse problem.
Helpful Mouse Articles
How Are Mice Getting Into My House?
Why Rodents Are A Year-Round Problem In New England
Mice Or Rats; Which Is Worse To Have In My New England Home?
Why Even Just One Mouse In Your Hartford Home Is Worse Than You Might Think
The Problem With DIY Rodent Control In Western Massachusetts
The Answers To Western Massachusetts Most Common Mouse Questions
Why Call A Pest Control Professional For Rodent Problems
Why Springfield Residents Need Year-Round Pest Control
Tackling A House Mouse Problem In Western Massachusetts