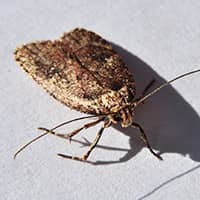 Indian Meal Moths
Indian meal moths are a common type of stored product pest that are found invading and feeding on dry goods found in kitchen and pantry areas. These pests got their name because they were first discovered feeding on cornmeal.
Indian Meal Moth Identification
Indian meal moth larvae grow to be about 1/2 of an inch in length. Their color depends on their specific species and their specific diet. Their body can be brown, green, off-white, or pinkish in color. The larvae's head and thorax are yellowish-brown in color. The body of the adult grows to about 3/8th of an inch in length and they have a 5/8th of an inch wingspan. The front half of the wing is a yellowish-gray color, the back half of the wing is bronze, copper, or dark gray in color and a dark band separates the two halves of the wing.
Habits & Life Cycle Of Indian Meal Moths
Adult Indian meal moths do not feed, only the larvae do. Indian meal moth larvae feed on a wide variety of dry goods including grains, flour, cereals, dry pet food, birdseed, spices, dried fruits, dried flowers, and chocolate. Adults are often attracted to lights and fly in a zig-zag pattern, resting during the day in dark quiet places.
An Indian meal moth infestation usually starts at a food processing/storage facility when the female lays her eggs in a food source contaminating it. An infestation happens in a home when a package that is already infested with Indian meal moth eggs is introduced inside. Once the larvae emerge they will begin to feed on the food source and create silk webbings that trap large amounts of caste skins and fecal material inside of them.
Indian Meal Moth Damages
Indian meal moth larvae feed on and quickly contaminate food sources found in kitchen and pantry areas. They are not a particularly dangerous pest, but they are a pest that should be eliminated as soon as their presence is discovered.
Indian Meal Moth Control
Getting help from a professional pest control company is the most effective method of control for Indian meal moths, especially because infestations are found in and near food sources. The experts at American Pest Solutions have the knowledge, experience, and technology necessary to eliminate any size Indian meal moth infestation. Review our home pest control program for details.
Indian Meal Moth Prevention
Preventing Indian meal moths from choosing your home to invade can be a difficult task but there are several things that you can do to help prevent them. Before purchasing dry goods from a store thoroughly inspect the packaging for any small holes or rips. Cereals, flour, and all other dry goods should be removed from their original packaging and placed inside glass or plastic containers that have locking lids. It is a good idea to routinely go through your pantry and get rid of older or expired items. To prevent adults from finding their way inside your home make sure that screens in windows and doors are intact and that any spaces found around them are caulked.
Helpful Indian Meal Moth Articles
Hartford County's Complete Guide To Effective Pantry Pest Control