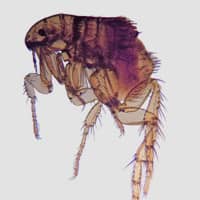 Fleas
Many people think that you have to own cats, dogs, or other furry pets in order to have a problem with fleas on your property or in your home. But, this is simply not true. Fleas invade homes whether or not a pet lives there. They're also just as much a problem in urban settings as they are in the suburbs. Generally speaking, fleas find their way onto properties (your yard, parks, playgrounds, etc.) by hitching rides on wild animals. As a deer or raccoon or other critters wanders by, fleas may drop off. From there they can be carried home and inside on people and pets. Though they are tiny, fleas can cause big problems for homeowners.
The Cat Flea
The most common type of flea found in our region and throughout the country is the cat flea. Don't let the name fool you though, cat fleas are just as happy feeding on the blood of dogs, rodents, and other wildlife (as well as people) as they are on felines. Adult fleas are only about 1/8th of an inch in length; they are wingless and have a very compressed flat body that is covered with microscopic hair. The shape of their body makes it easy for them to move through animal hair and makes it very difficult for them to be squished. Fleas have three sets of elongated legs that allow them to jump 6 inches vertically into the air and onto their next host.
Dangers Associated With Fleas
Flea bites can be miserable, itchy annoyances. They can also produce more than itching. The major danger of having fleas living in and around your home is the diseases and parasites that they can transmit to both you and your pets. Fleas are considered to be in-between hosts for tapeworm and rodent tapeworm. Flea larvae will feed on tapeworm segments that have been dropped on the ground, the eggs of the tapeworm then start to develop in the flea body. When your pet starts to lick and groom itself to get rid of the fleas they will inevitably swallow some of the fleas and then become infected with the tapeworm, where it will develop in their intestines. Fleas will also spread tapeworm to humans in much the same manner. Diseases that fleas can transmit include plague and murine typhus. Excessive scratching of flea bites can lead to skin infections.
Signs Of Fleas
If you're a pet owner you've probably noticed Fido or Fluffy scratching incessantly. That's a pretty good indication that fleas have landed on your pet and probably inside your home. Take a look through your pet's hair for these small insects. They move quickly so you are likely to see them one second and in the next moment, they'll be gone. Another sign of a flea infestation is finding flea dirt (feces) in areas around your home. Flea dirt has a similar appearance to coarse black pepper or coffee grounds; it is often found in carpets, bedding both human and pet, on rugs, and in furniture. Of course, flea bites on you or your family members are also an indication of a flea problem.
Flea Prevention Tips From American Pest Solutions
Flea prevention starts with your pets. Talk to your vet about which type of flea preventative would best suit your pet. Next, vacuum, vacuum, and vacuum again. Frequent vacuuming, especially over carpets and areas where your pet spends a lot of time will help catch fleas that hitched a ride inside. Washing pet bedding is also helpful as is your own bedding if you allow your pets to sleep with you. On a side note, we would encourage you to break that particular habit. You should also check pets (and yourself) for fleas after spending time outside. Outside the home, there's not a lot you can do to prevent wildlife from visiting. Some homeowners have put up fences in hopes of keeping deer and other animals off their lawns but as a flea prevention method, it's likely to fail.
Getting Rid Of Fleas
If fleas do find their way into your home, getting rid of them can be a very difficult task. All of the adults, larvae, and eggs need to be eradicated to solve the problem. Because of this, the most effective way to eliminate them is with the help of a professional exterminator. Contact American Pest Solutions if you find you and your pets covered in flea bites.
Helpful Flea Articles
Year-Round Flea Prevention For New England Pet Owners
Dangers Fleas Bring To Pet Owners In Massachusetts & Connecticut
Is It Dangerous To Have Fleas In My Western Massachusetts Home?