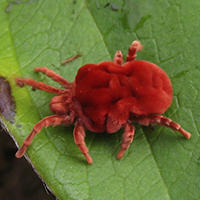 Clover Mites
Clover mites are a species of true mite and are not insects; they are close relatives of both spiders and ticks. Populations of clover mites are found all across the United States including in the Northeast. They are considered a nuisance pest; and if precautions are not taken, they have the ability to invade homes and other buildings in large numbers especially in the fall season.
Clover Mite Identification
Clover mites are most often identified by their bright red color; although not all clover mites are red. Some may be more green or brown depending on their diet. Adult clover mites only grow to be about the size of a pinhead. They have an oval-shaped body and four pairs of legs with the front pair being much larger than the rest.
Habits & Life Cycle Of Clover Mites
An interesting fact about the life cycle of the clover mite is that they reproduce parthenogenically, or without fertilization. Each female has the ability the lay 70 eggs which can mature in as little as 30 days if conditions are right - meaning a clover mite population can grow fairly large, fairly quickly. Females lay their eggs throughout the summer and fall; some adults and eggs then overwinter in warm, dry, safe locations. In the spring when the temperatures reach above freezing, the eggs hatch, mature, and the new adults begin to reproduce.
Clover mites are plant feeders and feed by sucking on the plant juices of clover, grasses, plants, and weeds. Clover mites can be found outside in large numbers feeding on lawns and other plants. In the fall, they enter homes and other buildings through cracks and crevices in the exterior walls and around windows and doors while searching for a spot to overwinter.
Clover Mite Damages
The biggest concern when it comes to clover mites is the stains that they can cause inside a home or other building. They are very tiny and travel together in very large numbers. Inside a home, they can easily become squished on rugs, clothing, and furniture leaving unsightly stains behind.
Clover Mite Control
Getting help from a professional pest control company is the most effective method of control for clover mites. The experts at American Pest Solutions have the knowledge, experience, and technology necessary to eliminate your clover mite infestation. We offer residential pest control services that help defend your home from pests common to Massachusetts.
Clover Mite Prevention
Because of the clover mites' small size, preventing them from getting into your home can be a difficult task; however, there are several things that you can do to help prevent them. It is very important to make sure to seal cracks and crevices in your home's foundation and caulk any spaces around windows and doors. It is also a good idea to fill in the spaces around utility lines and pipes that enter your home or business. Finally, create an 18-20 inch stone barrier between your home's foundation, removing any grass or weeds that may be present.
Helpful Clover Mites Articles
What Are These Tiny Red Bugs Around My Hartford Home?