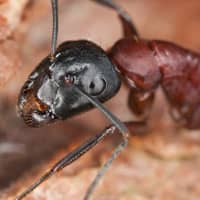 Carpenter Ants
Carpenter Ants are a re-occurring yearly problem for almost every property owner in the western New England area, and if unchecked they can actually do enough wood damage to make your home structurally unsafe to live in. We thought it might be helpful if we could give our clients a simple, no-nonsense overview of a variety of common questions and answers regarding this wood-destroying insect.
What Do Carpenter Ants Eat?
Unlike termites, carpenter ants don't eat wood. They are usually more interested in people and pet food as well as moisture sources like sweating pipes. That's why you often see them in kitchens and bathrooms. Outside, carpenter ants are often seen in trees, preferring the sweet "honeydew" secretions of aphids, which they find on leaves. They also eat aphids and the weak in their colony.
Where Do Carpenter Ants Live? Do They Live In My House?
Actually, carpenter ants live in both buildings and outdoors, often in tree trunks or stumps. The nest outside is the "parent" colony and the ones inside, satellite colonies. Likely places to find carpenter ants in a home or building include wall voids around sinks, dishwashers, and entrance doorways as well as in the roofline. It's not uncommon to find these wood-destroying ants in exterior trim that is damp and rotting, garage door casings, entry kick panels, and even hollow decorative columns.
Do Carpenter Ants Have Wings & Are They Large Or Small?
They can have wings. More specifically it is the reproductives that have wings. Females have larger, reddish wings while male reproductive have smaller wings and the color is not so pronounced.
How Much Damage Can Carpenter Ants Do?
Carpenter ants can be destructive if left unchecked. They can and will destroy the structural integrity of sills, studs, and headers as well as door casings. They will also invade through the kick plate area under a door and damage the box band behind it.
What Are The Consequences Of Putting Off A Carpenter Ant Treatment Inside Our Building?
Would you let a cavity go untreated? Of course not because you'd be looking at an even bigger, more expensive problem down the road. The same goes for carpenter ants. If left untreated, these pests will cause serious and costly damage to your home or business.
When Do Carpenter Ants Come Into Our Homes?
Carpenter ants prefer to feed at night. If you want to track them, put a few drops of honey on the shiny side of some scotch tape and stick it down in your kitchen. Wait until it's dark and they've had some time to discover the food, and then turn on the lights and follow them to where they are disappearing under the trim. Finding their nests is a major challenge and absolutely necessary in order to exterminate carpenter ant problems.
What Is The Best Way To Treat For Carpenter Ants?
At American Pest Solutions, we treat each carpenter ant job a little differently, but generally speaking, our initial service is an indoor and outdoor treatment. This means we don't just spray the foundation of your building. We try to treat as much of the inside basement sill area as possible. We also treat logical, known areas in a structure that are conducive to carpenter ant activity. We always guarantee our carpenter ant control until the following March, something nobody else does.
Helpful Carpenter Ant Articles
Homeowners Guide To Carpenter Ant Prevention
How To Tell If Your Western Massachusetts Property Has Carpenter Ants
Year-Round Ant Prevention For New England Residents
Why Carpenter Ants Invade Western Massachusetts Properties
Which Is Worse For Your Hartford Property; Carpenter Ants Or Termites?
How Ants Get Into Massachusetts And Connecticut Kitchens
Keeping Ants Out Of Your Hartford Home
Is It Termites Or Carpenter Ants Chewing On My Hartford Home?
How & Why Ants Get Into Western Massachusetts Homes
How Ant Infestations Start In Western Massachusetts Homes
Why Springfield Residents Need Year-Round Pest Control
The Key To Keeping Your Western Massachusetts Business Ant-Free!
Carpenter Ant Control In Western Massachusetts Made Simple
Found a carpenter ant nest in the door frame of a customers home. All gone! Good guys win again!

Posted by American Pest Solutions on Thursday, September 4, 2014