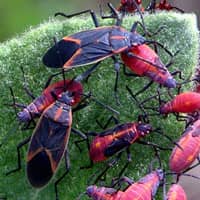 Box Elder Bugs
Box elder bugs are a type of nuisance pest that enters into homes and other buildings during the late fall season. They do this in order to have a safe place to overwinter in. When the weather is warm they can be found in large numbers, infesting seed-bearing box elder trees, along with maple, cherry, and ash trees.
Box Elder Bug Identification
Adult box elder bugs are about 1/2 of an inch in length and appear black in color. They have distinctive red lines running along their thorax and sides. Their wings lay flat against their body and are red in color. Young box elder bugs are redder in color than adults and are smaller and plumper in appearance.
Habits & Life Cycle Of Box Elder Bugs
Box elder bugs feed on the leaves, shoots, and seeds of the trees that they are infesting. They also use the trees that they invade to breed in. They will lay their rust-colored eggs in the trees or on the leaves of it. The eggs will hatch in just a few short days, and the nymphs will molt many times during the summer until they reach adulthood.
When the weather cools off they move inside through cracks and crevices of exterior walls, they will hide in crawl spaces, attics, and behind wall voids. Box elder bugs do not eat or breed during this dormant period; when the weather warms up again they move back outside to breed and feed on their host trees.
Box Elder Bug Damages
Box elder bugs are considered to be nuisance pests. In large numbers their presence and the act of feeding on the trees can cause severe damage to them. If they invade homes in large numbers, their feces can stain walls and upholstery.
Box Elder Bug Control
Getting help from a professional pest control company is the most effective method of control for box elder bugs. The experts at American Pest Solutions have the knowledge, experience, and technology necessary to eliminate your box elder bug infestation. Click here to review our home pest control program.
Box Elder Bug Prevention
Preventing box elder bugs from choosing your home and property can be a difficult task but there are several things that you can do to help prevent them. First, start by sealing any cracks or crevices that are found in your home's or building's foundation. Next, caulk any gaps that are found present around exterior windows and doors, and fix or replace ripped screen windows. Finally, trim back trees and bushes from the exterior walls of your home to prevent the box elder bugs from having easy access to your home.