What To Do About Pantry Moths In Western Massachusetts
February 21, 2022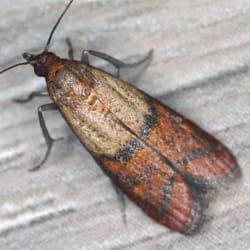 In: Pantry Pests
Pantry moths are insects that commonly infest dried foods in cupboards and pantries. These pests have wings and may appear in shades of grey, brown, or tan. Pantry moths commonly will target foods such as pasta, cereal, bread, spices, and many others.
Speaking with a licensed exterminator is strongly recommended rather than trying moth sprays, fabled natural moth repellents, or other moth treatments that are often only a short-term solution.
What Do Pantry Moths In Western Massachusetts Look Like?
The pantry moth is commonly referred to as an Indian meal moth or grain moth. The adults usually exceed a ¼ of an inch long and are a brown or tan color. What do moth eggs look like? Some of the common moths, including grain moths, flour moths, and Indian meal moths, lay groups of small eggs that appear in shades of white or grey.
How Do Indian Meal Moths Get Into Western Massachusetts Homes?
The majority of the time, moths enter homes within the packaging of various dried foods. To a lesser extent, pantry months might enter a home through exterior openings and begin laying eggs and expanding their presence.
Effective Pantry Moth Prevention Tips For Western Massachusetts Home
Some of the best strategies of prevention include:
Always closely inspect packaged foods for any evidence of pests before storing them.
Regularly sweep or vacuum pantry areas to limit any crumbs that may attract these pests and clean with soap and water.
Look closely at pantry or cabinet doors for any cracks that have developed and repair them to prevent access.
Properly store food in durable containers such as those composed of glass, hard plastic, or other material that pests will not penetrate.
Some homeowners struggle to recognize the signs that suggest the presence of pantry moths or their eggs. What do moth eggs look like? The eggs are typically tiny and are a lighter color.
Too many property owners will visit local retailers and purchase moth spray, traps, natural moth repellents, or other moth treatments in the hopes of eradicating these pests themselves. In many of these situations, the homeowner still struggles to eliminate these pests weeks or months later and experiences continued aggravation. A better course of action involves speaking with a local pest exterminator with the knowledge and tools needed to safely and efficiently expel pests.
The Trick To Total Pantry Pest Control In Western Massachusetts
In addition to pantry pests, the experts with American Pest Solutions are properly trained and well-equipped for ousting rodents, ants, cockroaches, and many other unwelcome invaders that find their way indoors and may pose health risks and potentially create costly property damage.
Our organization is also committed to continually educating and certifying our staff according to the highest standards in the industry. We have a board-certified entomologist on staff that is affiliated with the Entomological Society of America. The field of entomology is founded within the realm of zoology and assesses the way that insects interact and influence the lives of humans, animals, and plants.
Our company has also been successful in obtaining QualityPro certification, which is an achievement that is awarded by the National Pest Management Association (NPMA) and other leaders in the field. We continue to adopt the best practices of the integrated pest management approach that better ensures customer satisfaction and protects the local ecosystem.
One of our experienced specialists can visit your home to conduct a detailed inspection of the premises to identify the type(s) of pest involved, the way that these pests are gaining entry, and look in hard-to-reach places where many types of pests often hide. We will propose the best treatment plan, which is customized based on the unique circumstances that exist. Our representative will often uncover other existing property conditions that make your home susceptible to subsequent invasions from other pests.
We invite you to contact our office today for a consultation.