What Time Of Year Are Bed Bugs Most Active In Springfield?
September 19, 2019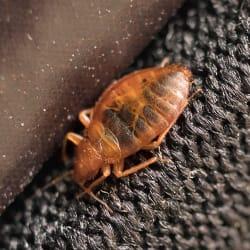 In: Bed Bugs

What time of year are you most active? Are you more likely to be outside on a cold winter day, or on a bright sunny day in mid-August? "What does this have to do with bed bugs?" you may ask. Well, bed bugs activity rises and falls with human activity. Why? Let's find out.
Why Bed Bugs Are Most Active During The Summer Months
Although everyone has a preference for what time of the year they most enjoy traveling, statistics say that the majority of individuals choose summer as their preferred time of travel. Combine this information with the fact that bed bugs are hitchhiking pests that need our help to get from place to place and you can start to see why bed bugs are a summer pest. In short, when we travel, so do they.
Warning Signs Of A Bed Bug Infestation
As we are coming out of summer and into fall, there is a chance that your home could be in the early stages of a bed bug infestation. Here are some warning signs you should keep an eye out for.
Blood dribblings left behind by feeding bed bugs.
Bed bug fecal matter.
A musty odor in the air (this will get worse as bed bugs reproduce and spread).
Bed bug eggs. These will appear as tiny see-through clusters.
Bed bug skin sheddings.
Live bed bugs crawling around.
If you have vacations planned, check for these signs in the rooms you plan on staying in. Avoiding bed bug infested rooms will greatly reduce your chances of bringing home bed bugs with you.
How American Pest Solutions Can Help If You Think You Have Bed Bugs
Whether you are sure you have bed bugs, or you just have a sneaking suspicion, the pros here at American Pest Solutions are here to assist. With just one visit we can determine if your home is dealing with a bed bug infestation. If our qualified pest technician finds bed bugs, they will work with you to find a solution that best solves the problem.
To find out more about the most reliable pest control company in Springfield, or to schedule an appointment for your home, give us a call today!