House Ants In Western Massachusetts: How To Keep Them Out
March 5, 2022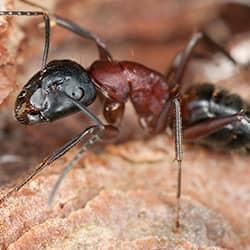 In: Ants
The size and constant presence of ants lead people to believe they're nothing to worry about. These bugs are dangerous. Some are capable of damaging properties and belongings. All will bring illness-causing germs. Specifically, carpenter ants will go after vital structural wood. Pavement ants in your house or around your establishment can hurt you and wreck soil. Folks try to get rid of pavement ants naturally, but these approaches often fail.
To avoid the perils of local ants, you have to understand more about their behavior. These insects can get through tiny crevices, and they procreate rather quickly. Learn how to eliminate pavement ants, carpenter critters, and other classes with proper ant control solutions now. American Pest Solutions can assist you.
The Types Of Ants That Invade Western Massachusetts Properties
Once more, carpenter and pavement ants are two species that are very common in the state. Pavement ants in Massachusetts vary in size, from 0.09 to 0.12 of an inch long. Regarding shading, they are brown or black. The appendages that overhang on their bodies have a lighter color. As you might have guessed from their name, pavement ants spend much time around driveways and sidewalks. It would help if you kept your eyes on your porches and decks because they will gather there too. It will be tough to maintain a visually pleasing yard if pavement ants are nearby. These pests are active diggers and will ruin the soil. When they make it indoors, they'll crawl straight to the kitchen. Be easy approaching them or try to avoid it altogether; they can sting.
Carpenter ants are unique from others in that they are particularly large. Generally, they are 0.25 to 0.50 of an inch long. Many are black, but some are red, brown, orange, reddish-black, yellow, or tan. The reproductive swarmers among the group have wings. Steadily, these insects will make nests and tunnels in wood. This will significantly weaken the material, possibly resulting in breaks or collapses. Lumber, trees, and logs are a few of the wood they favor. Should you see swarmers or stumble across heaps of wood shavings, there's an infestation. Also, be alarmed by hearing rustling sounds behind walls and having hollow foundations.
The Problems Ants Can Cause On Your Western Massachusetts Property
As previously described, carpenter and pavement ants in Massachusetts have their hazards. Regardless of the kind, the skin of these bugs is covered in bacteria. Further, their urine, feces, and saliva have microbes in them. E. coli and salmonella are just two of the conditions they distribute.
Five Natural Ways To Keep Ants Away From Your Property
To get rid of pavement ants naturally and their relatives, people will put the following on gathering points:
Coffee grounds
Mixed vinegar and water
Borax
Essential oils
Citrus
Carpenter and pavement ants in your house won't disappear with these avenues. They aren't helpful with infestations. Do these things instead:
Seal holes in utilities and foundations.
Immediately repair moisture defects and leaks immediately.
Make sure screens and sweeps are intact.
Thoroughly clean the kitchen and wash dishes often.
Take out the trash and vacuum rugs frequently.
Put food and garbage in airtight containers.
Get food spills up right away.
Sit greenery and wood away from the property.
Don't let free wood, like carpentry panels, touch soil.
The Best Way To Protect Your Western Massachusetts Home From Ants
Retail insecticides and "do it yourself" items are ineffective and potentially noxious. American Pest Solutions has safe interior and exterior home pest control treatments to eliminate pavement ants and fellow critters. Our ant control solutions are industrial-grade. Call us today!