Why Call American Pest Solutions First For Bee Problems In New England
May 3, 2019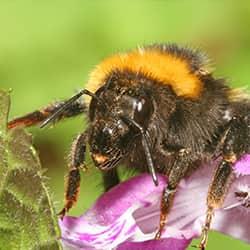 In: Stinging Insects
You may have already started to make plans for barbeques, picnics, parties, and other events in your beautiful backyard. Or maybe the kids want to go out and play on their swingset this summer. Have you thought about how you are going to avoid the bees and other stinging insects that will also be enjoying your backyard?
The warm weather in New England, the budding trees, and the return of flowers have indeed brought back those buzzing bees to do their very important job of pollination. As helpful as they are in nature, they have no place residing close to a home where people spend time outdoors with their children, pets, family, and friends. They are dangerous. They not only can cause painful stings, but they can cause serious problems for someone who is allergic to their venom.
All stinging insects need to be handled with care for two very important reasons. So they can't cause harm to people and pets and so that they can do their job to pollinate plants.
Many DIY methods and treatments are not good for people or the ecosystem and should be avoided. However, here are a few tips for avoiding stinging pests that can be helpful.
Avoid planting flowers and plants too near your home.
Do not wear scented perfumes, shampoos, deodorants, or lotions when you are outside. Avoid bright-colored clothing as well.
Watch for stinging insects so that you do not accidentally step on one barefoot or sit on one on your outdoor furniture.
Keep your food and trash tightly covered.
Clean up food and drink spills immediately.
Do not try to attempt a nest removal on your own. Stinging insects infestations are best left to the professionals. So, before the start of summer, enlist the help of American Pest Solutions in New England.
We are experienced in dealing with stinging insect problems without harming them or the ecosystem. You get peace of mind for your home and family as well as for the environment.
The experts at American Pest Solutions know how to protect your family and friends from painful stinging pests. We guarantee successful nest removal so that you can get out and enjoy your backyard again. Give us a call so we can set up a detailed inspection of your property and perform a nest removal service right away.