Tips To Avoid Bed Bugs On Summer Vacation
June 14, 2018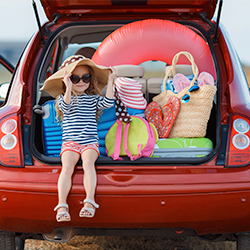 In: Bed Bugs
It's tourist season again, which means it's time to start watching out for the growing populations of bed bugs in public places. Along the east coast, as many people travel to the beach, go to visit relatives, go on sightseeing tours to see all of nature's beauty, or to just relax for awhile, bed bugs can become a major problem. Vacation is supposed to be a time to relax and have fun, however, it is also very important to be on high alert to avoid bed bugs this summer.
Here are some tips and precautions you can use while on vacation to avoid the risk of returning home with bed bugs:
Place all of your clothing, bedding, and other items you plan to bring on your trip in large ziplock bags before packing them into your suitcase.


Bring along additional large ziplock bags to put dirty laundry and purchased items into.


Inspect hotel and guest rooms for signs of bed bugs before bringing your luggage in.


Keep all luggage, clothing, and other items off of the floor and in sealed bags.


Do not unpack or put things in drawers, live out of your suitcase or hang everything up on a rod.


Inspect headrests of all public transportation that you use, as well as in theaters, museums, and libraries for signs of bed bugs.

You can also be at risk while hosting guests; here are a few tips for homeowners to use to help prevent bed bugs from invading while hosting friends and family:
If you don't have an empty closet to store coats in, be sure to cover a bed with a sheet or other cover before placing your guests' coats on it. Once your guests leave, wash and dry the covering using high temperatures.


Ask guests to leave their shoes on a mat by the door. Clean the mat thoroughly after everyone has left.


Use furniture covers that can be washed and dried at high temperatures after your guests leave.


If you are hosting guests overnight, use mattress encasements on their beds. Wash and dry all bedding afterward at high temperatures and vacuum around beds and other furniture.

Even if you implement every single one of these prevention tips, your home may still become infested with bed bugs. If you're experiencing problems with bed bugs in your home this travel season, contact American Pest Solutions. It is difficult to get rid of bed bugs, but we have bed bug solutions guaranteed to work. Our experienced technicians at American Pest Solutions are trained professionals that get effective results every time. Contact us today to find out how we can help you with your bed bug problems.