Preventing Ticks This Fall
September 15, 2017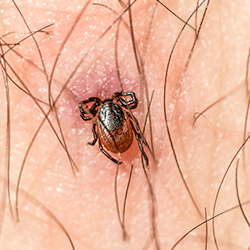 In: Ticks
Fall is the perfect time to be outside. The weather is not as warm, the humidity has dropped and the barbecue can still be fired up. The weather is starting to change, but that doesn't mean you need to stop enjoying your backyard nor should you stop keeping an eye out for ticks. Here is a quick glimpse at how you can prevent ticks this fall.
Favorite Fall Activities
In Springfield MA, Western Massachusetts and Hartford County, CT, fall is perfect. Here are just a few things we all love about fall and the things to do in fall.
Raking and jumping in the leaves

Apple picking and eating apple cider donuts

Fall hikes and leaf-peeping adventures

Fall festivals

Outdoor barbecues and bonfires

Picking pumpkins and other harvest produce
There is so much to do in the fall, and the beginning of fall season does bring good news, some of the pest threats that we face throughout the summer will begin to fade as temperatures begin to drop. Unfortunately, tick-related threats will remain throughout the fall season, making tick prevention a top priority.
How to Prevent Ticks in the Fall
Here are a few pointers to help you prevent ticks this fall:
Keep your grass mowed and the weeds cut

To prevent ticks from biting or getting into your home, wear brightly colored clothing so you can spot them and remove them sooner

Use flea and tick medicine on your pet

After hiking, walking, or jogging wash your clothes with hot water

Remove leaf and yard debris from the perimeter of your home

Move woodpiles and bird feeders away from your home to deter the animals that bring in ticks on their coats

Consider a tick control treatment plan
This fall, call the Good Guys at American Pest Solutions for tick control services, we will do an inspection of your property and develop a plan that will reduce the number of ticks on your property. When you reduce ticks on your property you will also reduce the threat of tick-related illness for your family and friends.