Planning A September Wedding? Don't Forget Mosquito Control!
September 12, 2019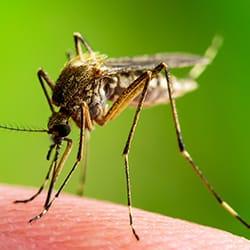 In: Mosquitoes
Late summer is a beautiful time of year to host your dream wedding, but if you choose to have your special day outside, love won't be the only thing that's in the air!
Mosquitoes are problematic and pesky insects that cause many problems for home and business owners, not to mention nature-loving brides and grooms. These bugs have been known to cause serious illnesses in their victims from symptoms that initially appear no more serious than the flu. Encephalitis, elephantitis, dengue, and Zika virus are all significant sicknesses that require medical attention.
Worse, mosquitoes are scheming, itchy nuisances that plague guests of all kinds, especially during outdoor weddings that continue into mosquitoes' active evening period. The stress and anguish mosquitoes can cause during outside events are enough to ruin parties and keep invitees away. Fortunately, there are actions you can take before the big day to help minimize the mosquito threat for you and your guests.
Focus on You, Not Them
Ensure that your focus will be where it should during the big day by taking these three steps.
Moisture, moisture, and more moisture! Be sure you're in an area away from stagnant fountains, lakes, or ponds unless larvicides have been applied to the water.
Mosquitoes are poor fliers, so using fans to keep air moving around seating areas helps stave off unwanted guests.
Don't be afraid to inspect your location. Qualified pest inspectors can visit your chosen location and report back with accurate findings on mosquito populations so you know what you're dealing with ahead of time.
The stress of preventing mosquito bites is very different than the assurance that mosquito presence has been eliminated from an outdoor area. DIY methods and over-the-counter sprays will not work for large groups of pests and may complicate your wedding day with unnecessary stress and distraction.
Say "I Do" With American Pest Solutions

Hiring a professional pest control service is the most cost-effective and reliable method of abating mosquitoes at the source. If mosquitoes are ruining your peace of mind before the biggest milestone of your life, don't hesitate to reach out to the pros at American Pest Solutions, serving Massachusetts with skill, experience, and professionalism since 1931.
When you decide on the mosquito abatement plan that's right for you, our pest technicians will visit your wedding venue to apply our safe and non-toxic sprays to nearby vegetation, ensuring that mosquitoes stay far away from you and your guests. For more information on how American Pest Solutions can serve you before the big day, call us to set up a free evaluation.