Are You Ready for Tick Season?
April 11, 2018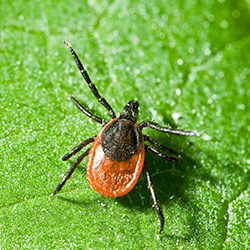 In: Ticks
The weather is slowing improving, and before you know it, you will pulling the grill out of storage along with lawn chairs and all kinds of yard games. It will be time to clean up the fire pit so that you can sit around the fire with your family at night. Let's face it, getting ready for spring comes quite naturally, especially since we are eager for winter to come to a close. That being said, are you ready for tick season? Do you know how to get ready for tick season or even why you should get ready for tick season?
Don't wait another minute! It is very important that you gear up for tick season before it hits, and arm yourself with all the knowledge you need to get through it safely. Here you can find some valuable information about the dangers of ticks, prevention, and how to get ready to thoroughly enjoy your own backyard again this spring:
Dangers of tick bites: Ticks can carry and transmit a multitude of serious diseases when they latch onto your skin and embed themselves there. The #1 tick illness is Lyme disease, which can damage joints and affect the heart and nervous system if left untreated in humans and pets.

Prevention at home: You should treat your beloved pets with veterinarian-approved preventative treatments, which will, in turn, protect the humans in your household. Vacuum all carpets, pet areas, and pet bedding on a regular basis. Keep your lawn mowed, the wooded areas thinned back, and tall grasses cut short. You should wear effective tick repellent, long sleeves, long pants, a hat, and close-toed shoes when you are outdoors. When you are ready to go back indoors you should inspect everyone before re-entering your home, including your pets.
The best way to prevent ticks is to get the help of a professional pest control service that is efficient and effective. American Pest Solutions will help guard you, your family, and your pets against the threat of ticks in your backyard. Our Mosquito and Tick Guard services attack them where they live, reducing the risk of mosquito and tick-borne illness at the same time. You can use this service or add it to your Pest Guard program. Call us today for more information on how we can give you peace of mind against the dangers of ticks and tick-borne illnesses.