24 Hour Pest Protection
August 31, 2016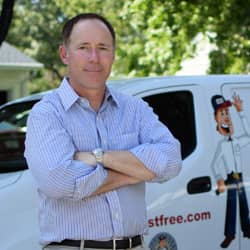 Pests don't take a break, and neither should your pest protection. Not to mention that you're spending your hard earned money keeping bugs and wildlife from affecting your home and your family. You deserve 24-hour protection, every single day.
At American Pest Solutions, we've been protecting homes in Massachusetts since 1913. Along the way, we've learned some things. One of the biggest things we've learned is how to make sure our customers are happy. And, when pests are driving you crazy, you're not happy. So, we decided awhile back that no pest control is truly complete without 24-hour service.
What happens if you wake up in the middle of the night to the sound of mice climbing through your walls? You're not going to be happy if you have to wait for those mice to be dealt with. We get it. That is why we have rodent control at the ready. We'll figure out what's going on and start working to fix the issue, so you can get some rest.
What happens if you're doing some renovations to the attic and decide to pull down some sheet rock just before you go to bed, only to find that you have termites? You don't want to have to wait until the next day--or days later--for someone to do an inspection. You want to know just how bad that infestation is.
When you walk into the living room and find a thousand fleas are practically covering your couch, you don't want to wait for pest control. You want to know how those fleas got in and you want them gone. It is hard to sleep when you know that fleas are jumping around everywhere. We understand.
When birds start thumping around in your attic, no problem. We'll dispatch a state-certified and licensed pest control professional to evaluate your problem and start measures to arrest the issue.
If you're putting your kids to bed, and you notice red, rashy bites, and discover those bites are coming from a bed bug infestation, you're going to be glad you have 24-hour protection. You'll get immediate advice on what--and what not--to do. Some people immediately throw their mattress out or pack everyone up and go stay at the home of a friend or family member. These steps will lead to unnecessary loss of valuable belongings and cause the bed bugs to spread to the home of someone you care about. 24-hour service will keep you, and them, safe from these bugs.
Don't let bugs and animals take you by surprise. When your family is part of the American Pest Solutions family, you get complete protection 24 hours a day, every single day. And that is pest control you can be happy with.